Uniden UH820S Portable UHF Radio
One of the most useful items you can have is a portable UHF radio. These allow you to communicate with the driver of the tow vehicle when reversing into a caravan park or other tight space.  Saves on flapping your arms around like a bird and giving confusing messages to the driver.  Many people, like us, will buy a cheap set of 2 portable radios but we have found that the microphone and speakers in these units are not very high quality and it can be very difficult to hear the instructions being given as a result.
In order to address this problem, Kylie bought me a new portable UHF radio. Thankfully, using the principle that you get what you pay for, she got a Uniden UH820s which costs about $120 – $150 as a single unit or $250 as a twin pack.  This is in the upper end of the price spectrum but having used this unit a few times, it is well worth the extra money.
First thing you notice about this radio is that it is very small and extremely light. It's not flimsy in any way, just beautifully designed.  All the switches and controls are good quality and the backlit LCD is clear and bright.  I've had experience with a few portable radios in my time and this is by far the nicest one I've ever used.
It has all the standard features of most portable UHF radios and at 2 watts output, it should be good for short to medium distance communications. The box says it is good for a distance of 13kms but I haven't tested this claim just yet.  I suspect that would only be achievable in a clear line of sight situation but for communication with the driver while backing it is more than adequate.  There is a lower power setting to preserve battery life.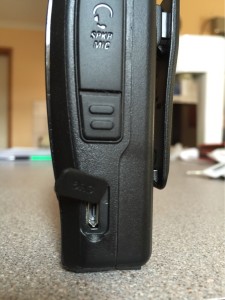 On the batteries, this is probably where this unit differs from many in that it is operated by a Lithium Ion battery that is charged up in the unit using a USB connector. This means if can be charged up from almost any source including a laptop, 12v socket, USB charge port on your caravan, even from an phone charger. Indeed anywhere you can find a USB port, you can charge this unit.  Standby time for the battery is quoted as 21 hours.
In addition to the Lithium battery, the unit comes with another back piece that can hold 3 x AA batteries so in the rare event you cannot find a USB source, you can still use the radio provided you have a few AAs lying around.
The best thing about this radio is that both the speaker and microphone are very good quality and the clarity of the sound I receive in the radio in the Cruiser is brilliant. The radio in the Cruiser is also a Uniden but it's a remote head unit with the control box and speaker mounted behind the dashboard.  To get such a good sound in these conditions is very satisfying.
So to sum up, the Uniden UH820s is not the cheapest portable UHF radio on the market but it is not the most expensive either and for the price it represents a good investment and excellent value for money. It's tough, light weight and has very flexible power options. Best of all the sound quality is excellent.