FourBy Fitouts Rear Storage System
When it comes to accessorising my 4WDs, I've always been in favour of the Do It Yourself method, for two reasons.  1. I'm a bit of a tight arse so I save myself a lot of money doing everything myself.  2. By building or installing stuff myself, I know how its done which makes maintenance much easier.  The main problem is that I am not an expert by any stretch so my work doesn't always end up being totally satisfactory.
In the Patrol, I made my own set of drawers for the rear cargo area.  I did this because I wanted to be able to have one drawer accessible with just the one rear door open and I couldn't find anything on the market that was configured that way.  I made the system out of pretty thick MDF which meant the result was pretty strong, but also extremely heavy.  The drawers weren't fitted with runners, instead they simply slid on the base board which was laminated. They works well but were too heavy for Kylie to use.
This wasn't a huge issue until we did our Kimberly and NT trip.  When ever I was fixing a flat tyre or doing other maintenance, and I needed Kylie to get something for me from the rear drawers, she struggled with the weight. When we got back, we had a bit of a rethink and decided to purchase a decent drawer system.
We looked around at various designs but in the end the Fourby Fitouts system really appealed.
From the first glance, it is obvious that someone has gone to a lot of trouble to design a quality system that uses every speck of available space, down to the custom cargo barrier that sits right up against the rear seats.  We went for the full system with 2 drawers stacked on top of each other, large fridge slide and mesh shelf for all those smaller soft items like blankets and pillows.  There are also  pockets on both sides which are designed to enable continued assess to the standard side pockets under the windows. We also got the 20l water tank which has proven invaluable for camping trips away from the caravan, or for when you need to do some washing up after a trip to the beach.
A really nifty feature of this system is the very handy work table that slides in beside the fridge when not in use, then sits nicely on the open bottom drawer giving you a very handy place to prepare and cook food or as a workbench for those smaller running repairs.  Just brilliant…!
The fridge slide is also one of the best I have ever seen with good quality roller runners, solid locking mechanism as well as decent tie down straps that actually work…!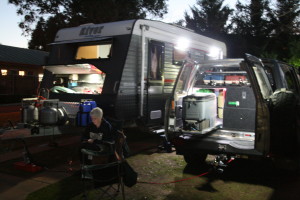 The drawers are all made from galvanised steel and slide on quality runners.  Everything is fully lined with marine carpet inside and out.  This is a very durable system.  It has not exhibited any squeaks or rattles in the whole time we've had the system fitted.
The only real negatives of this system are that it is quite heavy so you need to be aware of your GVM when loading it up.  Also with the fridge installed, there isn't a lot of room for storing a big load of shopping bags.  They can be slotted into the shelf but its a tight squeeze with the mesh on top.  If this is likely to be an issue, I would recommend just getting the drawers and not fitting the full unit.
In summary, the Fourby Fitouts rear storage system is fantastic and has served us extremely well.  Its made storing and accessing all our gear easy for both of us and it has proved to be well constructed. We can definitely recommend Fourby Fitouts for your rear storage solutions in your 4WD.