Eco Heat Twin Induction Cooktop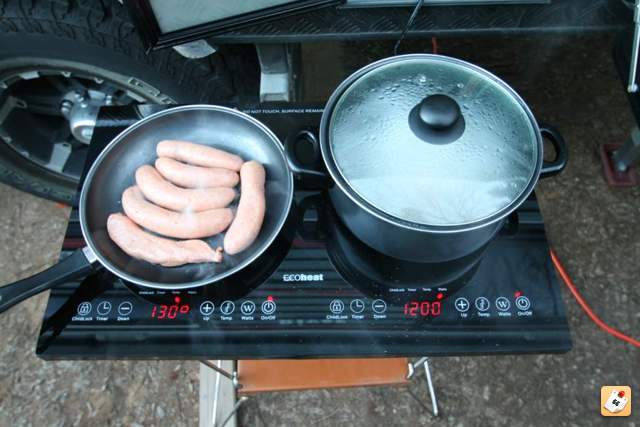 This would have to be one of the most remarkable, versatile and useful cooking appliances we have ever used. Even when we purchased it as part of a deal with the Eco Pot, I do not believe we realised just how good this cooktop would be.
Firstly the Eco Heat twin plate is unique in the market as the only twin plate induction cooktop that can be operated from a normal 240v 10 amp mains power socket. This means it can be run virtually anywhere mains power is accessible. It is also capable of running from suitably rated sine wave inverters and generators making it ideal for the caravan or camper. It's also light weight, very portable, easy to store and comes with a durable carry bag.
When set up it fits neatly on the typical drop down table fitted to the side of most caravans.
Because it uses induction to produce heat, it can operate in weather conditions that would challenge a gas cooktop such as a windy day. We have also used it in freezing conditions without any problems.
Heat adjustment is achieved by selecting one of four settings which can be either displayed as temperature or watts. The latter is particularly useful if you are using the unit with an inverter or generator and you don't want to overload it.
Both sides operate independently and can be set to different temperature/wattage settings. You can also operate just one side only if you are trying to conserve power. Very convenient.
The four step adjustment may seem limited but in practice it works well. We have been able to achieve a good constant simmer on the lowest setting which can be difficult even on good gas cooktops. The maximum setting of 1200 watts is more than hot enough for boiling a pot of water and frying on a large pan.
The only drawback to the unit is you have to ensure you are using induction friendly cookware. We found this to be a challenge at times as some cookware marked as induction compatible does not actually work with the Eco Heat. The way to ensure an item will work is to see if it is magnetic. If I go shopping for cookware, I take a small magnet with me to ensure what I purchase will work. Simple solution really.
The other issue is it is not a good idea to use cheap, thin pots and pans as they have a tendency to burn the glass top. This is easily cleaned if it happens, but it is a bit of a pain. We bought good quality cookware with solid bases and have not had any issues.
Cleaning is simple. The glass top wipes clean with a little Windex sprayed on. There is no maintenance other than to keep it stored in a dry place.
The Eco Heat is not cheap but we believe it is worth every cent we paid for it and more. If we are staying at caravan parks with mains power available, it is our first cooking appliance to come out and often the only one we use.
For the caravan, camper or motorhome, I do not believe there is a better electric cooktop on the market and it would challenge any gas cooktop. If you have paid for a powered site, you may as well use the power and conserve your gas, saving money in the process.
We highly recommend the Eco Heat Twin Plate Induction Cooktop.
For more information visit the Ecopot Website.