I can be booked for not using rated D shackles and safety chains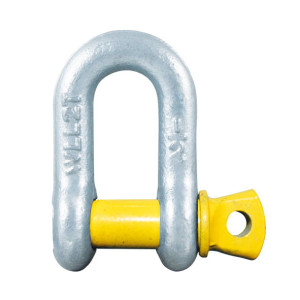 This Myth has been doing the rounds of the forums and social media for quite some time after images of some very official documents were posted.  Generally it was accepted that this was untrue however social media has lit up again recently and some extremely fierce debates have ensued.
The truth is that there is no legal requirement to have rated D (or Bow) shackles and rated safety chains on trailers under 3500kgs.   This is confirmed in a recent report (May 2015) by the RACV following members raising concerns that they'd be fined for using what they thought was common towing hitch components, i.e. non rated chains as shackles.  To quote the report:
The Caravan Industry of Australia has told RACV various police and state transport departments have denied any sort of crackdown.
The CIA also confirms there is no specific requirement for D-shackles such as when attaching a trailer to a tow-bar. The Australian Standard on shackles (AS 2741-2002) only covers their use for lifting.
"Our understanding is that there is currently no regulations requiring shackles used on trailer safety chains to comply with the standard," says Stuart Lamont of the CIA. "However, some state authorities provide guidelines or advice for selecting suitable shackles."
Mr Lamont says the CIA does recommend using shackles that meet AS 2741-2002 to secure safety chains up to 3500kg capacity.
The grade should be "S" or "6", have a 10mm diameter and a working load limit of 1000kg.
Mr Lamont says either bow-shackles or D-shackles are suitable, noting that the bow design provides greater angular uses.
But that is not the end of the story.
I recently read a first hand report from a caravanner who experienced a complete coupling failure while transporting a van from Adelaide to Melbourne.  In a nutshell, the A frame had rusted underneath the tow coupling to the point the frame and bolts cracked and the coupling separated totally from the frame.  The result was an out of control caravan that fortunately didn't hit any oncoming traffic.
Another who, after reading of this incident, checked his own van and discovered how close to a disaster he was, as the picture here shows.
So while it is extremely rare for these couplings to fail completely, it does happen and if the prospect of a 3.5t van careering down the road uncontrolled scares you, then why not do everything you can to ensure your emergency systems work by using rated safety gear.
To my way of thinking it is just common sense and for the sake of a few extra dollars, you could prevent a complete catastrophe.
For the record, our Roadstar Safari Tamer was fitted at the factory with rated D shackles and safety chains.