Jet Tent Pilot DLX Camp Chair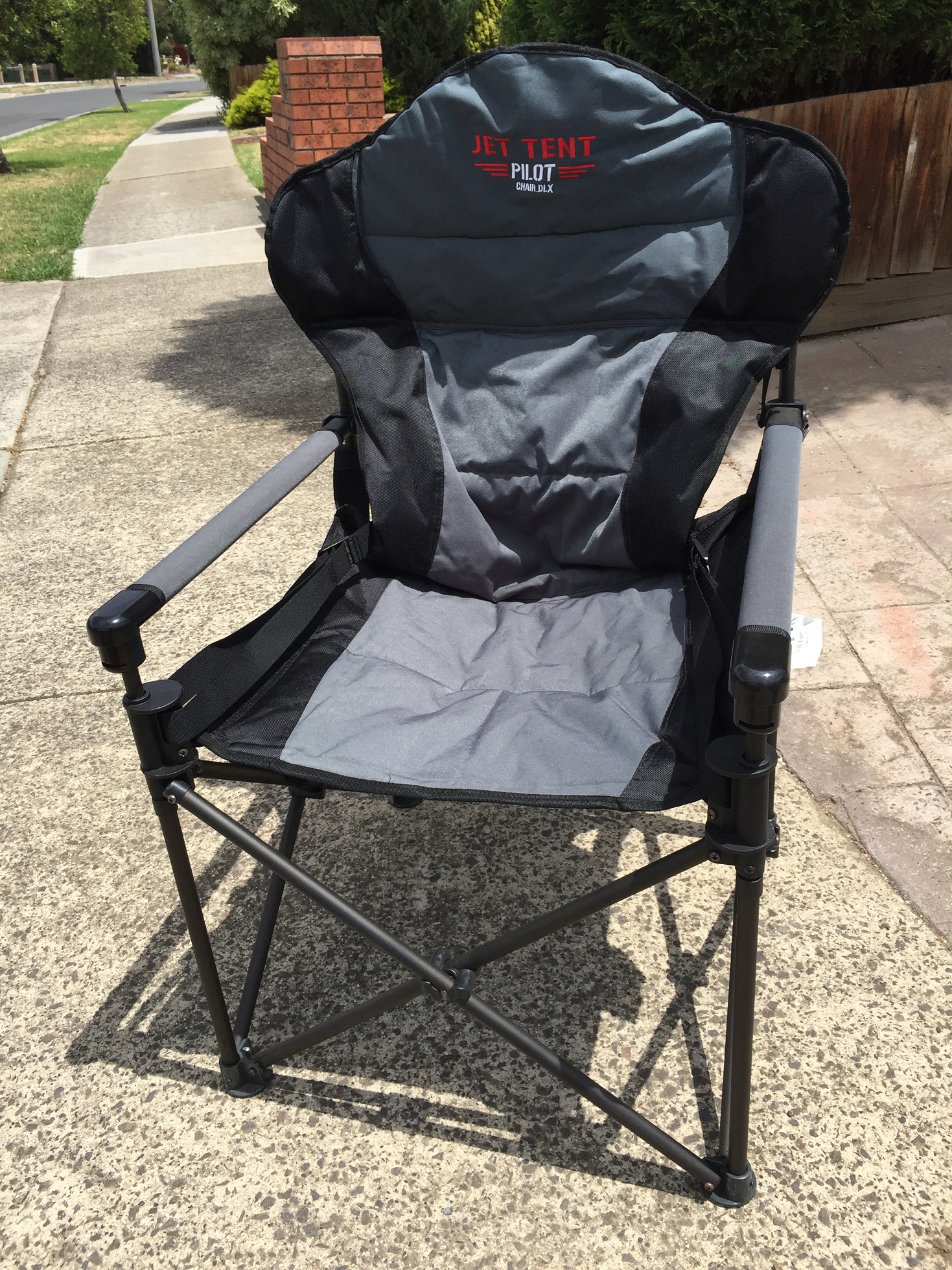 Buying a chair for general camping is probably not a huge issue for most people but when it comes to buying a chair for extended outback travel, you want that chair to be comfortable and durable while still remaining RV friendly; i.e. easy to store and lightweight. In our opinion the Jet Tent Pilot Camp DLX Chair ticks all these boxes at a reasonable price.
The first thing that strikes you about these chairs is they are extremely well made. Certainly a grade above any camp chair we have ever owned or seen. The frame is all steel construction and the joins are bolted together, not riveted like the cheap units.
The seat material is hard wearing canvas-like fabric with PVC backing. It's fully padded so when you sit in it at feels most like a regular chair. The arm rests are a solid type with foam padding. These clip into place and can be set to the side if desired.
The very tough carry bag rolls up and fits into a zippered pocket in the head rest to provide extra padding for the back of your head. I like this but Kylie isn't so fussed about it. If you're wearing a broad brimmed hat, it can get in the way.
Unique to this chair is the adjustable lumbar support. At first glance, this doesn't look like it would be too comfortable but once you sit in one of these chairs and get the setting just right, they are extremely comfortable. Much more so than a basic camp chair. In fact you can sit in these all day without any discomfort whatsoever…!
I have to admit the Jet Tent Pilot DLX Chair, once packed up, takes up a bit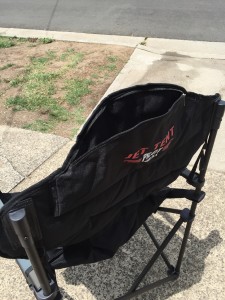 more room that your average folding camp chair but you have to remember there is more padding and a substantial frame here and the carry bag is made from very thick material so some additional bulk is to be expected. That said these chairs are not very heavy at all weighing in at 5kg fully packed. That's not bad and certainly on par with cheaper, smaller and far less comfortable alternatives.
My only complaint about them is the little side pocket which has a drink holder and a place for your mobile phone It is a little small and doesn't feel very secure when a full glass stubbie is sitting in it. That said, I've never spilled a drop using it so I suppose it's just what you get used to.
The Jet Tent Pilot DLX Camp Chair is available from OzTent for around $130. That's a bit pricey for a camp chair but when you consider its comfort and durability, this represents a good long term investment.