Kylie talks about our Caravan Buying Journey
We bought our first caravan 'Mick' after a trip in Nigel with my parents, I was getting very envious of them sitting outside their little Coromal Pop Top having taking two seconds to set up, while we were sweating away getting Nigel up, and we could do this in 10 mins as we had it down to a fine art form. I didn't have a shower and the porta pottie worked but it wasn't the same as a nice toilet that isn't 20 inches off the ground and no privacy at all should nature call at an inopportune time. Then we arrived in SA after 6 weeks in the NT, suffice to say I froze, was miserable and cracked it completely.
My poor patience husband tried desperately to dissuade me from the path of the lumbering beast, I was not to be swayed. In fact I dragged him to the Caravan show at Sandowne Raceway and a deposit later we were awaiting the build of Mick.
Mick was an 18ft Offroad River Caravan and he was tough, there were some compromises along the way (read toilet/shower combo – this was still a step up from the porta potti and loo block) and a few other changes that we made, but I was in love. Pull up open a door OHHH THE JOYS OF IT ALL.
Built like a Sherman Tank I think Mick would have outlasted the Patrol (whos name was 'Edwin' for the purposes of full disclosure). Mick was HEAVY at nearly 3T loaded, which is a LOT for a little 18ft van, but we bought him with the express purpose of going off the beaten track.
We never actually got off the beaten track however, we did one big trip in Mick to QLD, but because I had a horrendous cold (Hubby almost cancelled the trip) we went the caravan park and power route. We did learn that I disliked sitting on a wet toilet so installed a shower curtain in the combo, and that you can fall out of a caravan quite easily especially when they require a step to get to the steps.
Marty went on a weekend trip with some friends from a forum, where they had arranged to go to a weigh bridge and then overnight camping. It was at this event that Marty first saw the Roadstar Safari Tamer, and was impressed with the overall quality and finish of the van. He mentioned it to me in passing and that was as far as it went.
As we started to talk about taking 12 months off to go around Australia, Marty and I realised that while Mick was a top van it was too small for us to live in for that length of time. Or had it rained for a sustained period, I don't think we could have been confined in Mick without getting on each other's nerves, so we began to look around again.
There was of course a wish list; I wanted an ensuite, ducted heating and a washing machine. Marty wanted more self-sufficiency and something that would still take us of the beaten track. We both wanted comfort and a little touch of luxury. A van that we could sit in for extended periods if required and one that also had room for the girls.
We looked at a lot of vans for about 6 months, sat in them, talked to dealers about changes we could or couldn't make, discussed wants vs needs and trolled forums for feedback about vans. It was at this point Marty bought the Roadstar Safari Tamer back up again. I agreed to go and have a look at it.
Well I sat in this van for 2 hours and we both climbed over it inside and out, we actually got lucky and the day we were look Ken (Roadstar owner) happened to be at the dealership so we could ask questions directly.
As we still had to sell Mick we procrastinated some more – thinking that Mick would take ages to sell. Well bugger me if we didn't sell it in a week, Mick was gone in 2 weeks and we were without a van at all. This was epically bad planning, ohhhh well you live and learn (this is where I started to whinge about going to Geelong for a concert and having to sleep in a TENT – ohhh the inhumanity of it all).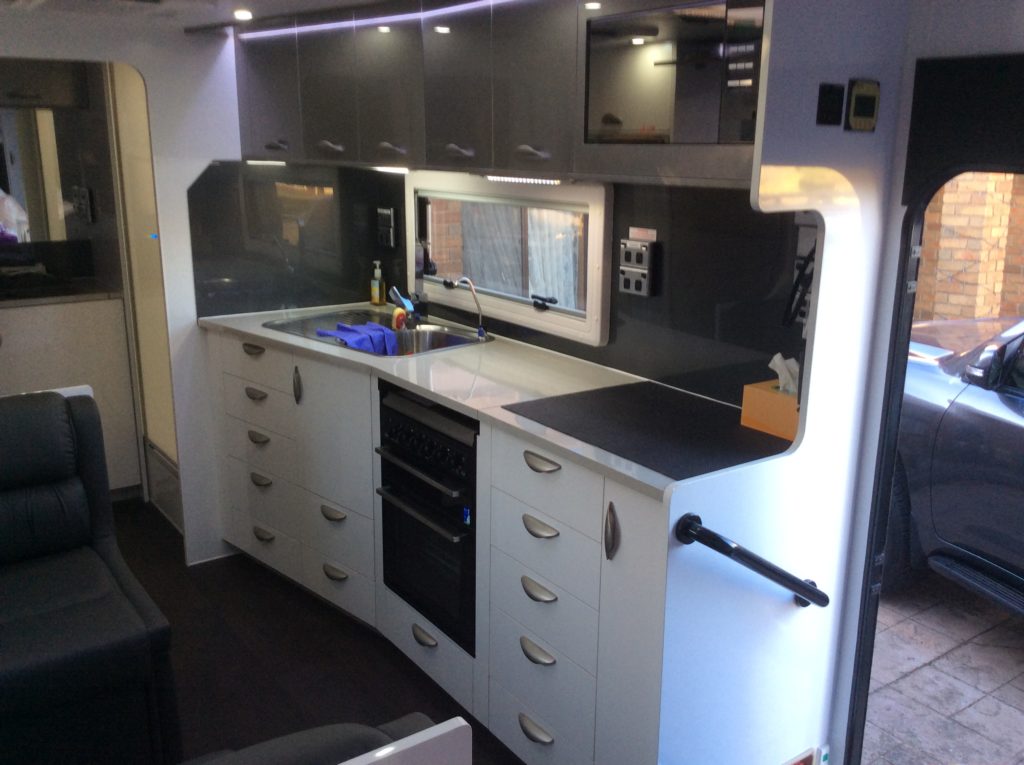 We headed off to the caravan super show at Flemington in the Jan of 2015 to see what sort of 'show deal' we could secure. Again lucky for us Ken happened to be there (unlucky for Ken as I am a pest of the first order – Noel at Roadstar could attest to this also lol). Well we quizzed and changed, added and added some more. Both Ken and Peter from Cobram Caravans were great with us, two hours later we had a build date slotted in and had paid the deposit on a new 20ft6in Safari Tamer.
The wait for delivery was going to kill us, we knew going into the order that 'Sven' wouldn't be delivered until October. So I planned that we would do our first shakedown run over the Melbourne Cup long weekend…. So long to wait. This also meant we had to upgrade the car from our trusty yet krusty Patrol Edwin. Edwin was just not going to cut the mustard, we have done the unthinkable as Nissan owners and bought a LandCruiser 'Olaf' (I did say I named everything). A thumping V8 twin turbo diesel to pull the big bugger.
Why we chose Roadstar, we get asked this a lot, almost as much as we get asked if people can have a look inside the van. We are always happy to talk about it and more than happy for people to have a look – we are very proud of our van.
What is important to us as van owners may not be important to the next person, but this is what we looked for:
Ensuite – wet toilets are not my thing, noting that we umm'd and ahh'd about the hotwater system (I like to resemble a lobster), but the swift is beyond compare.
Ducted Gas Heating – I am a lizard lobster, freezing is NOT an option in my world
Solar, so that we are self-sufficient for a period of time before we need to use a caravan park or similar
The addition of a gray water tank – a lot of free camps are starting to request self-contained units only.
A BBQ fitted into the tunnel boot – I don't actually like cooking inside vans, I prefer it to all be done outside.
An interior that wasn't dark, yet modern and comfortable, we had done the wood look in Mick and I wanted a completely different look in the new van.

A washing machine – now this might seem stupid, given that they are mostly 2.2 or 3kg machines, that said next time have a really good look at the van park machines (SHUDDER – I used to carry Canestan anti-bacterial liquid to prevent fungus in the clothes). You just need to plan out your washing in a strategic manner. And yes we have dogs, and no we don't wash their stuff in the van park machines or in the little one in the van, I wait until there is a pet specific machine and then run it through that.
I'm sure that Marty had more important things on his list, like suspension, off-road capabilities etc etc, but really let's face it happy wife happy life RIGHT.
Noel from Roadstar kept us informed while Sven was under construction and even sent us photos. We also chose to have Sven made with an aluminium frame and are the first Roadstar to roll out with this option.
The Roadstar Safari Tamer was awarded Best Luxury Caravan of the Year in 2013 having a look inside you can see why, from the soft closing kitchen drawers, to the brushed aluminium finish of the top cupboards, the precision cut of the fitouts, it just screams class. The bed is full size (well we fit with all three dogs on it, that didn't happen in Mick), the couches are leather, and there is a linen closet also. It is also interesting to note that the roof of the van is one piece there isn't a join, ergo there isn't a bucket load of silicone on it either (think waterproofing).  Can I spend 12 months in this… a resounding YES.
Haven't we had any issues with the van – a few small things, a window that had shifted slightly and a blind that wouldn't retract properly, Ken and Noel at Roadstar were straight onto this and had it fixed in no time (including the damage that we did to the van, we are 50/50 each, I forgot to lock the ensuite door before travelling, and Marty tried to rip the stone guard off – did I mention this van is tonka tough!!!).
We are heading out soon to try 'free camping' which is what we fitted the van out for, stay tuned for that update.