Kylie's Top 10 Must Haves in a Caravan
My top 10 must haves in the van….
AHHHHHH caravan shopping. My eyes light up at the prospect of heading out to one of the multitude of caravan shows to see what is available and new on the market.
For our first van "Mick" I was a tad innocent about the whole process, to me the fact that we were upgrading from a camper trailer to a van was just the ducks nuts, my only request was a toilet and a shower of my own (see my rambles about porta poties this covers my obsession). As Mick was only 18ft we compromised and I got a combo suite. I learnt I do NOT like a wet toilet seat; however a shower curtain fixed this rapidly.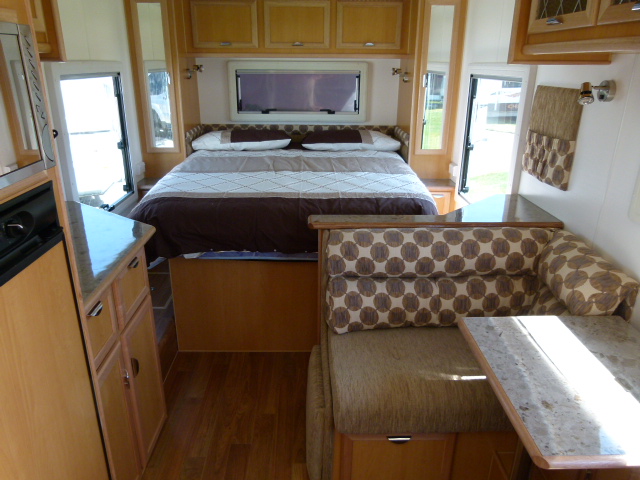 Mick was tough, but not something that I could spend a week in if it rained, or a sustained journey of 12+ months with hubby and the dogs. It really didn't have everything that I had learnt I wanted.
HELLO Sven. When we decided to upgrade to the bigger van I had a list of what I wanted:
Separate Toilet and Shower – I wanted an ensuite and was not budging on this at all
Washing Machine – ohhhh the stories that I could tell about laundries lol
Ducted Gas Heating – actually just ducted heating, YES I hear you it sounds stupid but there is method in my madness
Linen closet – we had the spare sheets and towels for Mick stored in vacuum bags under the bed.
Skylight – it really does help brighten up the van, even when its raining
Finish – Something that was timeless, yet neutral that I could dress up and or change when the whim took me
Enough room for the girls – we could actually make them sleep in the ensuite, but I am soft and they are soooo cute.
Bed not near the door – I actually compromised on this one as I loved the van so much.
Storage – as we are planning on going for a significant length of time, I wanted to make sure we had room. As it is we have loads and empty cupboards.
No windows behind the bed – I will wake up when there is the slightest amount of light.
I also wanted a dish washer – I got vetoed on this request due to weight and water usage (he can be so mean sometimes lol).
I know that the first three are just plain soft, and I am sooooo good with that it's not funny. I like camping, actually I love it, however as I have gotten older, I like the small luxuries that afford me a good yet comfortable time. I've explained the ensuite lol, the washing machine – well spend some time in a camp laundry and have a good look; Canesten is your best friend take it with you to put into the shared machines. The heater – yes I am a reptile, I don't do cold weather at all well (it is strange given I grew up in Canberra and now live in Melbourne). When you free camp there is no electric blanket – ergo I am cold, miserable and whinge a LOT. Heating either gas or diesel fixes this problem – happy wife, happy life.
I was lucky, with the exception of the bed near the door, I got them all. I realise that my requirements and needs are not necessarily everyone's, and I love looking through other vans to see what their owners have come up with and whether there is anything 'steal-able' (read shower curtain in the combo).