Our Personal 4WD Tow Vehicle Comparison
Quite often we get asked why we bought the things we bought, particularly the 4wd and the caravan.  While I am not backward in offering my opinions, I do tend to be measured in the details I provide.  I don't want to offend someone because I didn't like the car they may own.  But on this site I figured if someone is genuinely interested enough to read this and find out our true reasons for purchasing the Landcruiser, then they should be prepared for the full warts and all details.  So here it is…..
We narrowed down our search to the following vehicles:
Toyota Landcruiser 200 Series Twin Turbo Diesel
Land Rover Discovery Series 4 V6 TDi
Ford Ranger 3.2 Diesel Dual Cab Ute
Holden Colorado Dual Cab Ute Diesel
Iveco Turbo Daily 4×4 Dual Cab chassis
All had 3500kg towing capacity.  All had genuine off road capabilities.  All were powered by diesel engines. And they all came highly recommended by owners on various forums.
I'll start with the last one first.  The Iveco Turbo Daily is one hell of a truck and would make the basis for an unbelievable outback expedition vehicle.  The interior is a bit blue collar but its practical and for the most part quite comfortable thanks to air suspension seats.  It is a bit short on mod cons but they can be easily added later of needs be.  Off road I do not think anything could touch it with its gutsy twin turbo diesel engine, dual transfer cases and triple locking diffs.  There are a few problems with it.  Firstly, at over $80,000 for the basic cab chassis, no tray or anything in the back, the additional costs involved to deck it out just to carry some cargo put it right into high end Landcruiser/Landrover territory and they are much more comfortable and better appointed.  Its also huge…monster truck huge.  Driving this beast as a daily drive would be close to impossible especially in the Melbourne CBD.  Even most suburban shopping centres couldn't fit it.  Its also only available in a manual and we really wanted an automatic to make towing that bit easier.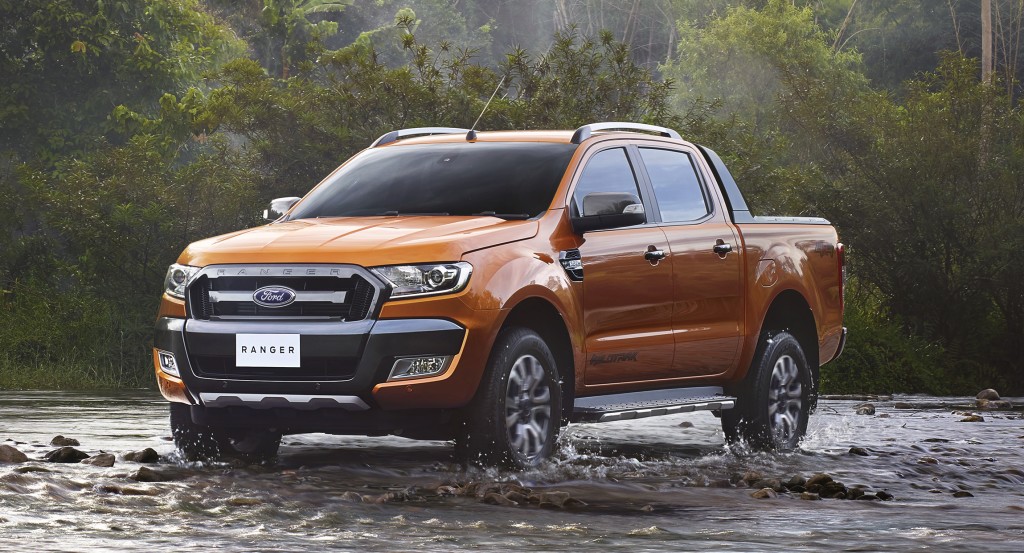 Next off the list was the Ford Ranger. Now I know my assessment of it will upset some readers but I really didn't like the Ford very much at all.  Kylie hated it.  The interior is a bit cheap.  The engine is rough as guts and really hates being revved. The noise coming from the snorkel when you give it the beans is just horrible.  It sounds like a bear having a tooth pulled out.  The automatic transmission can't seem to make up its mind about what gear it wants to be in.  There was a really annoying vibration coming through the accelerator.  It just didn't live up to the hype and expectations.  To be perfectly honest, I was really disappointed with it.  The clincher was the limited CGM rating once its towing its maximum 3500kgs.  In fact by the time you add the towing hitch and weight distribution bars, you're lucky to have enough capacity remaining for yourself, a passenger, a small esky and a few cans of drink before its over its GCM.  And that's without adding any of the basic accessories like a bull bar, driving lights, drawer system, etc.
The Holden Colorado was actually a bit of a surprise and it really gave us something to think about.  Its a nice looking vehicle and it drives beautifully.  The interior is very comfortable and, for the price, it includes a lot of fruit.  In fact we could have got the top of the line model with custom made sport seating and an ECU upgrade done by the dealership and still got change from $52,000.  If I was purchasing a dual cab ute, I would seriously consider one of these.  In the end though, its still only a 4 cylinder engine and it has a similar CGM weight issue as the Ford Ranger so it was ruled out in the end.
The Land Rover Discovery Series 4 is one hell of a 4WD.  It is by far and away the most comfortable car I have ever driven.  The engine and transmission are near perfect.  It oozes class and sophistication and has every gadget and toy you could possibly want in a long distance touring 4WD.  Kylie really loved it and had her heart set on it and I wasn't far off either.  Reports about its towing abilities and exceptional fuel economy appealed.  I would have bought one of these except for 2 reasons only.  There are not a lot of Land Rover dealerships out there and I have had issues in the past with mechanics saying they do not touch Land Rovers.  I don't want to be in that position ever again as it is stressful and costly.  Second issue was it has a small fuel tank (95 odd litres) which limits its towing range.  I wasn't keen on adding a long range fuel tank and limiting my cargo capacity in the process.  It was with a heavy heart we walked away from it.
When we test drove the Toyota Landcruiser, I actually wanted to hate it.  I wanted it to be awful,  uncomfortable and too big for Kylie to handle as a daily drive.  I had managed to avoid buying a Landcruiser all these years and I didn't want to give in to one now.  But when we took it for a test drive, both of us were totally convinced this was the 4WD for us.  It has the most wonderful engine put into a 4WD….EVER.  It is intoxicating how it can be a lazy cruiser and then, at the push of the accelerator, it snaps to attention and pulls like a train with a soundtrack to rival an SS V8.  But it is also surprisingly easy to drive and manoeuvre for such a huge car. Kylie was able to drive it around and park it without any issues at all.  It has an excellent touring range with 140l fuel capacity as standard and we were able to get the GVM upgraded prior to registration.  All up it was everything we wanted and it certainly lived up to the hype.  Its not perfect.  The transmission is a bit finicky and the interior is a bit dated but overall its a peerless towing 4WD that is backed up by the best dealer service network in the country.
If we were sticking mainly to the major highways and city centres, we may have bought the Discovery.  But for outback travelling where reliability means more than anything, the Landcruiser is the best towing vehicle that can still function as a daily drive in CBD Melbourne.