Sheepyard Flat – Victoria High Country
Sheepyard Flat, in the Howqua Hills Historic Area near Mansfield, Victoria, is one of the best places you can take your caravan for its first time free camping. It is also one of the most popular camp spots in the State being the staging point for many 4wd adventures into the Victorian High Country.
To get to Sheepyard Flat, you need to drive to Merrijg which can take about 3 hours to get to from CBD Melbourne. Just after going through Merrijig, you'll come to the turnoff to Howqua Track which is also conveniently signposted to Sheepyard Flat. From there it is a 17km drive along a winding dirt. You need to be very careful driving along this section as some of the corners are very sharp and there can be a lot of traffic heading in both directions. We've come across other large caravans on this road and I can tell you it can be tricky getting past each other if you're not careful.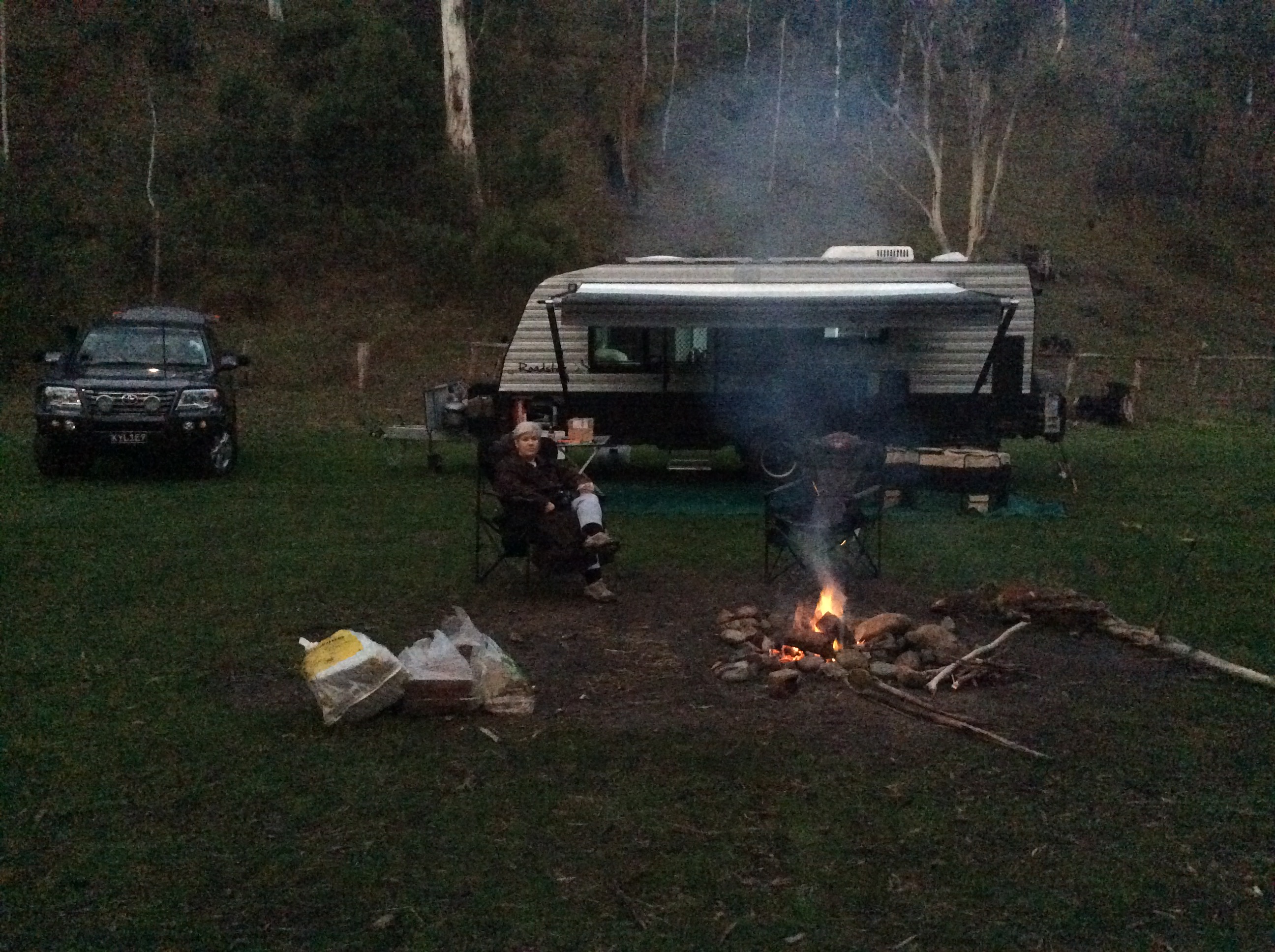 Near the end of this road is a bridge that goes over the Howqua river. Almost immediately after crossing the bridge you'll see the turnoff on the right to the campground itself. In fact, this is just one area that you can camp. On the left is another large area and following the road further along will take you to other campgrounds in the area.
Sheepyard Flat is in a natural valley with very easy access to the Howqua River. The camp area has numerous places to camp with many dedicated fireplaces for campfires. There are lots of trees to provide cover however be extremely careful as some of these trees are notorious for dropping their limbs. Best is to try to make camp in an open area.  This area can also get quite wet especially during winter.  While its not likely that you will get bogged, you do need to be careful.
One of the great things about Sheepyard Flat is it is a dog friendly campground. If you do bring your dogs here, make sure you look after them. I stayed there one weekend when a family lost their pet. I never found out if they ever retrieved their dog. Cleaning up after them is also important as the area is frequented by lots of native wildlife.
The reason I like this area for trying out your freecamping setup is that it will challenge it without leaving you stuck without any facilities. Because the area is so sheltered, even in summer, getting sufficient solar time to recharge your batteries will be difficult. You will certainly be able to judge the limits of your battery capacity. You can also see how far you can go on your water tanks in the knowledge that there is usually sufficient fresh water in the river nearby. The area also has very good drop toilets so you have an alternative to using your caravan's ensuite. Whatever you do, do not empty your toilet cartridge into the drop toilets. This can be harmful to their biological breakdown processes.
There are plenty of things to do in the area including many bushwalking trails, high country huts to check out as well as lots of great 4wding including the famous Craig's Hut on top of Mount Sterling. That said, Sheepyard Flat is a great place to just set up camp, light a fire and relax in an beautiful and safe Victorian bushland environment.