I must be getting soft in my old age. While some of my fondest memories are camping with my dad in our old army tent, the thought of sleeping in a tent on the ground, let alone the idea of travelling long term in one, really doesn't appeal any more. That said, I had given some thought to the prospect of being full time on the road in a caravan and wanting to go places that the van simply cannot go. The idea of a roof top tent of some description did appeal so I began to look into in.
From what I could gather, there are 2 types of rooftop tents on the market. There's the fold out type that are similar to soft floor campers, just smaller, and there's the pod type which pop up to reveal the living space. Both have their advantages and disadvantages.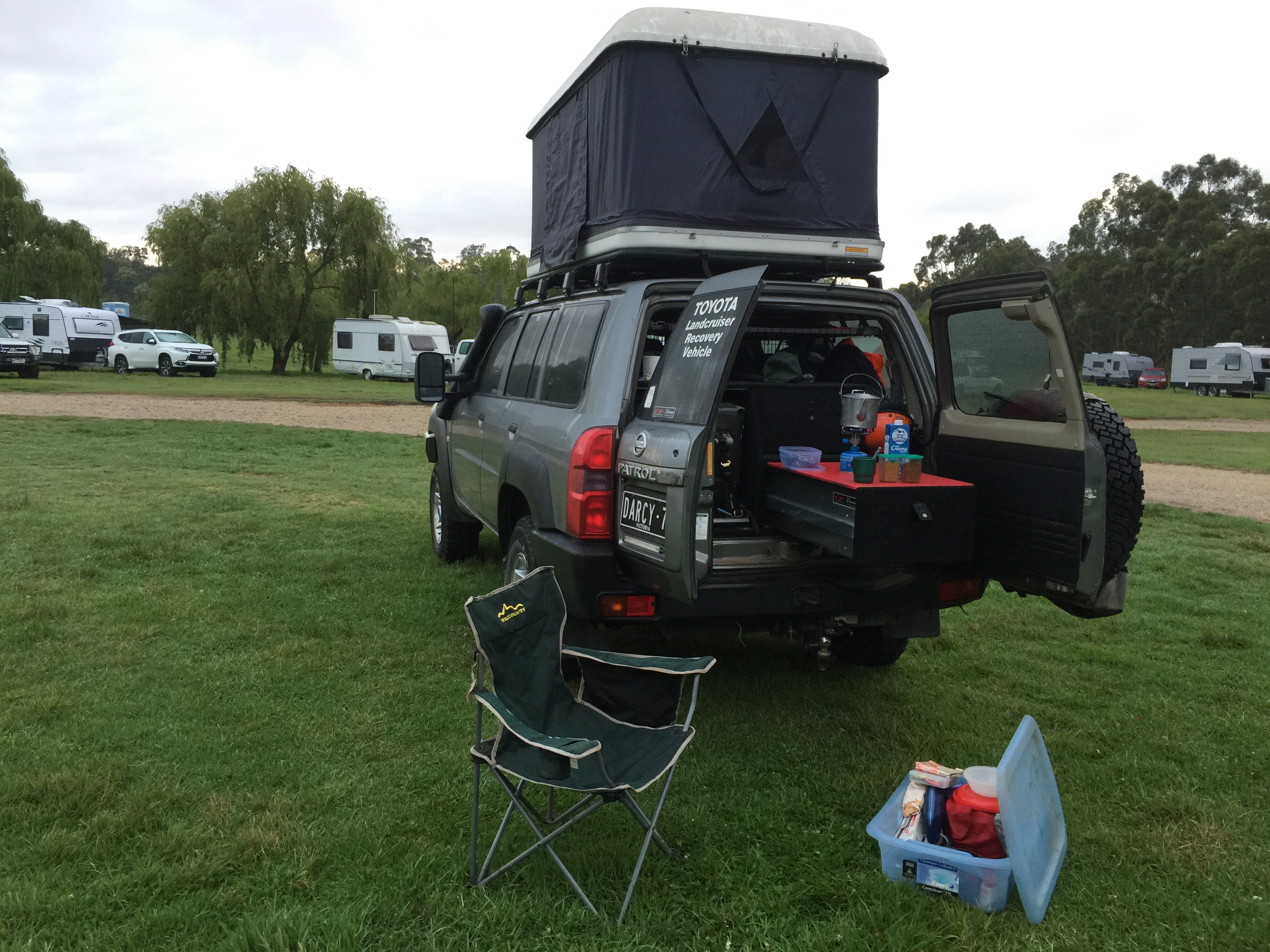 The folding tents are quite spacious once opened and can have a myriad of accessories attached to them including enclosures reaching to the ground to create additional under cover areas that you can stand in. Great for getting changed in. The sleeping areas are also quite large with ample ventilation. Price wise, there is a lot of competition in this segment of the market and there are some very inexpensive options available. Obviously quality may vary proportional with the price. The main disadvantage is they don't pack up to a small package and this may have a detrimental effect on your vehicles fuel economy.
The pod style tents very easy to erect, literally popping up after releasing a few clips. There are some quite innovative designs on the market including some with integrated 12v electrical systems and solar panels on the roof. I've even seen some that are electrically operated, opening and closing with the touch of a button. When closed, the pods offer a streamlined profile minimising their effect on fuel economy. The biggest issue with them is they are restricted in living space, literally being only big enough to sleep in. They also tend to be very expensive with some of the brand names reaching $5,000 or more.
Our preference was for a pod type tent but the prices scared me. Then I came across this one from Stedi which, at $1,600, was at a far more palatable price point. There's no bells and whistles with this tent. Just a mattress and a rather clever ladder. That's it. No solar panels or lighting. Given I really didn't need any of these extras, I went ahead an purchased one.
A few things I noticed after unpacking it and putting it on the roof rack of the Patrol. The Stedi unit is basically a Chinese copy of the more expensive European brands. The quality of the locking clips was not really great and the pod never seemed to sit properly on the base when packed away. Once erected, it was pretty good. The material used seemed good quality and the gas struts made setting up a breeze. Packing away was tricky. I put one end down and when I went to lower the other end, the first end would raise again. I figured out I had to be a bit careful to avoid this happening. The mattress was not really all that comfortable and I had to use a second mattress to get the bed to my liking.
By far the biggest issue was that the space inside is quite cramped. For one person sleeping up there it is brilliant. 2 people up there is a little tight. Kylie was not a fan of it at all. Further, the prospect of a middle of the night dash to the dunny via the rather steep ladder, didn't thrill her one bit. Basically she was never going to use it.
I kept it for myself for a few years and used it whenever I went away for a weekend 4wding with the boys and, I have to say, I loved it. It's so nice sleeping high off the ground in your own little capsule with a degree of protection from the elements afforded by the pod roof. With the Patrol kitted out with the rear drawer system and all the basic camping needs catered for, it's like a mini home away from home just for me. For a lone traveller, these pod type tents are fantastic.  It was very well secured to the roof rack and never budged even in the worst off road driving conditions.  see video.
Unfortunately, with us heading off for our life on the road, the Stedi tent will not be transferred to the Cruiser. We will have to find another way to tour away from the van that we both like. Ironically, that may be another regular tent of some description. Sigh.