After picking up our new Roadstar Safari Tamer, we took it for its maiden voyage to the Tarra Valley in Gippsland.  First time towing a heavy load in the new Landcruiser as well.  Happy to report it was a success after an initial issue with the brake controller. Thanks go to Turnbull Toyota in Yarrum for fixing the problem on the spot for me.
The van towed behind the cruiser extremely well.  Very stable at all speeds and we weren't running with a weight distribution hitch. This is a testament to both the design of the Safari Tamer and the ability of the upgraded suspension on the Cruiser to carry a load.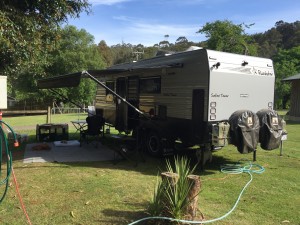 What really did surprise was the fuel economy achieved.  Measured at the pump we achieved 17.4l/100ks.  That was with a mixture of hilly and winding b grade roads, freeway running along Citylink and a few quick trailerless trips into Yarrum.  Given we were probably quite close to fully loaded (3500kgs max), this is a stunning result.  I believe we could easily achieve better figures on long highway stretches.
We stayed at Best Friends Holiday Retreat in the Tarry Valley itself which is the best caravan park if you have dogs travelling with you.  You can read more about it here.
Also happy to report we had no problems with the new van.  Everything seems to have worked out of the box.  Pretty impressive.  More about that later.
Overall, we're absolutely delighted with the initial performance of both the Roadstar Safari Tamer and the Toyota Landcruiser 200.