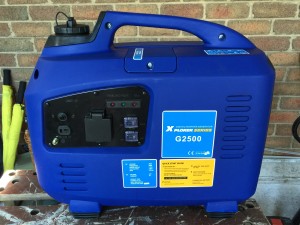 I finally got a chance to set up and test the generator we got with the Safari Tamer.  Its not exactly a name brand unit like a Honda or Yamaha, but early indications are that, for a cheap generator, this is pretty good.
Owning a generator is a major investment for many caravaners wanting to do a lot of free camping but the decision to purchase either a name brand unit or a cheap eBay special is a difficult one.
Here we look at the ongoing performance of the X-Plorer G2500 inverter generator that was supplied with our van.  Its basically the same as any cheap inverter generator made in China that you can buy from eBay for approximately $600.
If first impressions are any indication, this should prove to be a useful accessory to our van.
You can follow this long term review by clicking here.