River Eliminator Off Road Caravan – 'Mick'
After our last trip to Northern Australia in the camper, Kylie put her foot down and said she was sick of canvass. We were travelling with her parents who had a Coromal 505 Seeka off road pop top which went pretty much everywhere we went without any issues. I figured happy wife happy life.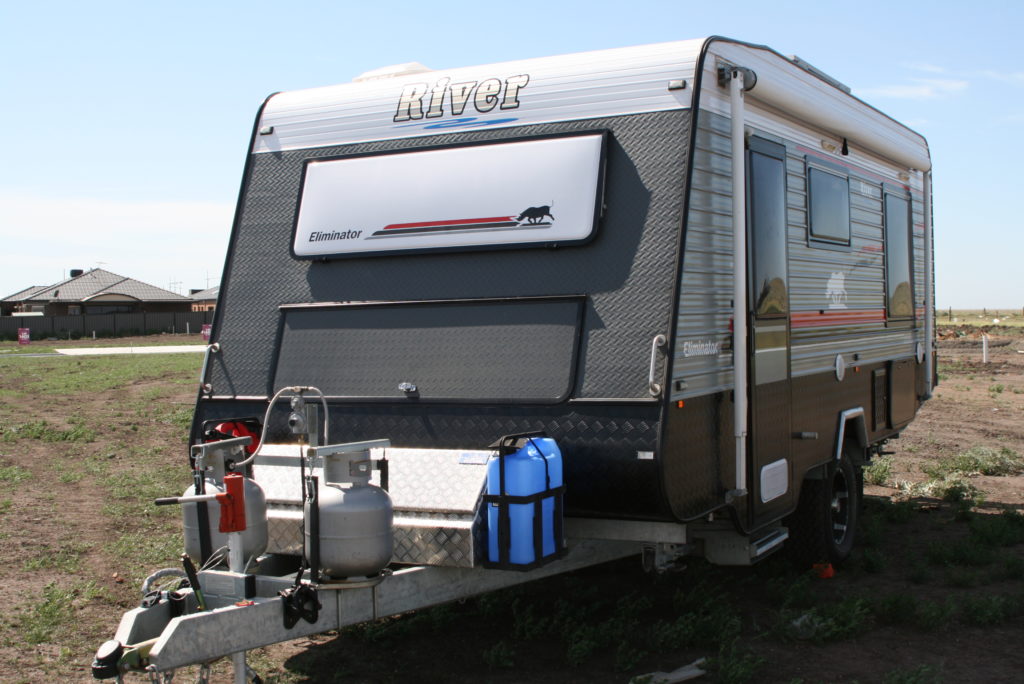 We were looking for a very specific design that being a single axle off road van with a cut away rear end similar to the Coromal the in-laws owned. We wanted a shower and toilet and the whole setup needed to be suitable for extended outback touring. We looked at heaps of other brands but the River was as close to the perfect layout as we could find at the time. The only real compromise was a combo shower and toilet. The staff at Caravan Court and River could not have been more accommodating in customising the van to our needs although there really wasn't much we needed to do as practically everything we wanted was standard.
Some of the features and options fitted are:
160w solar and 200ah batteries with Plasmatronics PL-20 controller.
700w inverter with remote control and battery monitor.
Strong G&S chassis with control rider suspension and extended triple drawbar.
Raised bed height to accommodate second fridge and extra storage.
Raised side steps with trap door storage.
Metal draw runners and piano hinges thought the interior.
Updated ATM for additional cargo capacity.
180l water capacity.
Huge, gal lined front boot.
DO-35 hitch.
Wheels and tyres matched to the Patrol.
4 x Jerry can holders.
Reverse camera.
LED lighting throughout.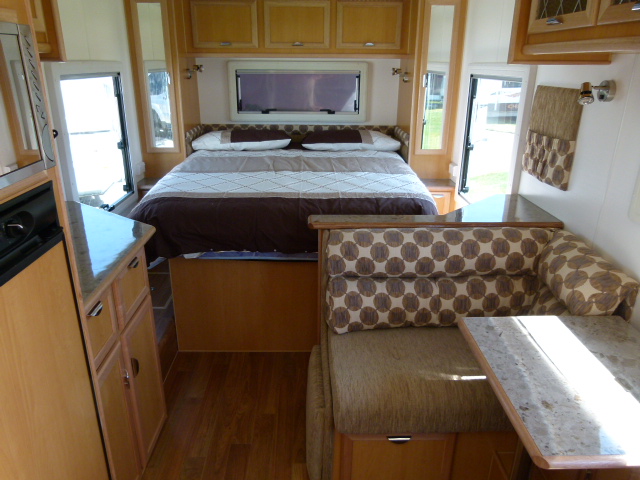 The weight is pretty heavy for a single axel and I was aware of that when we bought it. I certainly wouldn't want to go any bigger that's for sure. So far it's been absolutely fine. It actually tows better with a full load. We do have to be careful about how we pack so as to maintain sufficient weight over the towball but so far that hasn't proved to be an issue. The front boot is huge and we have most of our heavy stuff in there. We have gone on a bit of a weight reducing exercise recently by turfing some unnecessarily heavy items that we weren't using.
The biggest issue with towing it is it is so high off the ground, driving into anything resembling a head wind really knocks the socks out of the Patrol's fuel consumption. Again, if I was so worried about fuel consumption, I wouldn't have bought the van in the first place…! It averages out in the end. We get anything between 16 and 20l/100ks travelling at about 90-100kph.
The only mods to date include a light under the bed, a shower curtain in the shower/toilet, concealed GPS tracking system and a DNOTV sign on the back. Nothing else.