Having a keen interest in all things caravanning and camping, I spend a bit of my spare time scrolling through various facebook groups and caravanning forums. More often than not, they are a great source of information as well as ideas for this blog. Recently I have noticed a troubling increase in the number of posts that advocate for completely unsafe practices particularly when it comes to 240v mains power. The old argument about plugging a caravan into a domestic 240v 10 amp power supply is the most common. Others are about the use of generators and inverters. These topics seem to start off innocently enough with the original poster having a genuine question to ask but many of the replies that follow just defy belief. It is incredible the number of people who suggest that making up your own power lead with a 10 amp point at one end and a 15 amp plug at the other and try to justify its safety and legality. I have even read a post from one person, whose son was supposedly a qualified electrician, claim it was a totally legal thing to do. I cannot imagine any self-respecting electrician making such a claim especially when the laws about this are so clear.
Other troubling advice I have read suggests to grind down plugs so that they fit the smaller outlets. Others suggest that drilling out the power point to accept the larger plugs is also acceptable. Fortunately, many forum and facebook group administrators have recognised the issue and are now deleting these posts. Apart from the fact that people posting such advice are actually incriminating themselves on a public forum, the possibility that someone could actually think this advice is correct and act accordingly means lives are put at risk. The question of liability in such an event would be very interesting indeed.
There is another troubling side-track that has also emerged from these posts. That being the behaviour of some caravan park managers and their blatant disregard for electrical safety. Some allegedly have been handing out illegal power cords and instructing their tenants to use 10 amp outlets for their RVs. Worse is the tenants have actually been using them…! Truly staggering behaviour.
It is so important that we are all aware of the laws and have a clear understanding of what is safe and what is unsafe. This is especially true for the novice and the experienced caravanner alike. We have an article on electrical safety with pictures of the sort of things to look out for as well as a summary of the laws in question.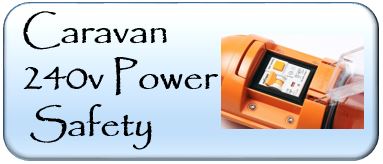 In essence though, the advice is very clear and simple. No one should be doing any work beyond changing a fuse or light bulb on anything 240v related unless they are a qualified electrician. Any electrical work must be accompanied with a certificate of electrical safety. Don't listen to the trolls on forums and facebook groups. Only use electrical products purchased from reputable retail outlets.
If in doubt, talk to a reputable and licenced electrician.  It really is that simple.
Safe travels everyone.