ThermoMix TM5 Food Processor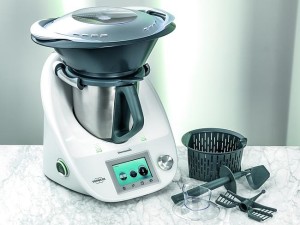 I know what you're probably thinking. Marty's gone completely mad now. How can a $2000 kitchen appliance be any possible use for caravanning or camper lifestyle? Well…let me tell you, I scarcely believe I am including this review here.  What's more, I am going to highly recommend that you get one of these brilliant devices because what you can achieve with it is truly staggering.
A little bit of history. Kylie loves her gadgets.  It's one of the reasons I love her and why we get on so well as I love them too and it helps if we both share the same desires. But Kylie does have a habit of rushing to buy something she thinks she will use and, after a few months, it ends up in the cupboard never to be seen again.  When she told me she wanted to buy a Thermomix, I was reluctant to let her spend $2000 on something only for it to be consigned to the cupboard with the other appliances.  But she convinced me that she would use it and that it would be awesome. To add weight to the argument, a friend of ours bought one and she cooked up an Indian feast for us and 8 of our friends, the likes of which would not have been out of place in a top Indian restaurant.  All prepared and cooked in the Thermomix.  It was an impressive demonstration.
So, after having the Thermomix consultant come to our place and host a demonstration, the deposit was put down and later we received ours, delivered to our home by the consultant. You don't buy these in the shops.  You get a very personalised service and that support is ongoing for the life of the product.
Anyway, a bit about the unit itself. It is large but not so much that it couldn't be transported relatively easily.  In fact you can purchase a sturdy carry bag for it.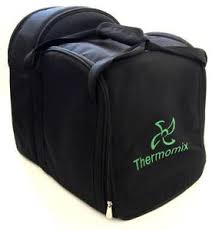 It's about the size of a medium size food processor.  It is made up of several components.  The base which houses all the electrical wizardry, the stainless steel mixing bowl, the Veroma unit which is a two layered steamer, a simmering basket and a thermal serving bowl.  There are a couple of accessories including a spatula, a butterfly whisk and a measuring cup, all specifically designed to work with the Thermomix.  Also included in the package is a recipe chip that attaches to the side of the unit and provides you with step by step instructions for the basic recipes on the colour screen.  Very high tech indeed.
Cooking in the Thermomix is a revelation. All the hype and excitement about them is absolutely justified.  Its not like any cooking you've done before.  Its simple, back to basics using fresh base ingredients to produce that true home style cooking experience.  The only difference is its all 21st century.  There's no changing from one pot to another pan and having the fryer going at the same time.  No, almost everything is done in the Thermomix using the accessories.  The secret is the mixing bowl has a cooking element incorporated into it and it is controlled by the on-board computer to cook food to perfection.  The design allows the Veroma unit to cook using steam generated by the mixing bowl as it cooks, infusing flavour in the process.  There's very little fat with the majority of recipes and the results are simply amazing.
One recipe that blew me away was the lamb shanks. I never would have believed how tender and juicy steamed meat could taste.  The other food that the Thermomix excels at is Indian curries.  There's none of those pre prepared packed foods.  Everything is prepared and cooked from scratch in the Thermomix itself and they taste incredible.  Using it we have rediscovered a love of cooking and healthy eating.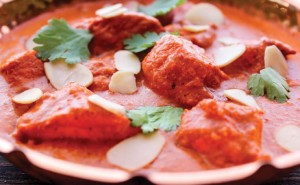 Finally, as if all that wasn't enough to convince you to get one of these, the Thermomix is backed up by an extensive online community with a rich library of recipes to try. The 'Skinnymixers' range is particularly enjoyable.
For caravanning and camping, it is the ideal cooking appliance.  All you need in addition to the Thermomix is a chopping board and a good knife and maybe a couple of bowls.  That's about it for the majority of recipes.  Washing up couldn't be simpler and in a kitchen with restricted space, this is what you really want and need. Trust me on this.
When you're finished, everything can be neatly and safely stored in the optional carry bag. Its a top quality bag that is worth the additional investment.
If I had one negative thing to say about the Thermomix is that it can be a bit noisy especially when preparing food at the highest blade speeds like creating your own almond meal from whole almonds. It's nothing you couldn't deal with and I would doubt it would be annoying to anyone outside the caravan.  It really is no hardship at all...!
All up, we cannot recommend the Thermomix highly enough. It is a revelation and it will change the way you cook for ever and it's portable enough to be considered something you can take away with you on your RV adventures.  The support you receive from your Thermomix consultant and the general online community means this will rapidly become your number one, go-to appliance for nearly every meal. It truly is that good...!
For more information visit the Thermomix Australia website