Ultimate Bush Hopper Camper Trailer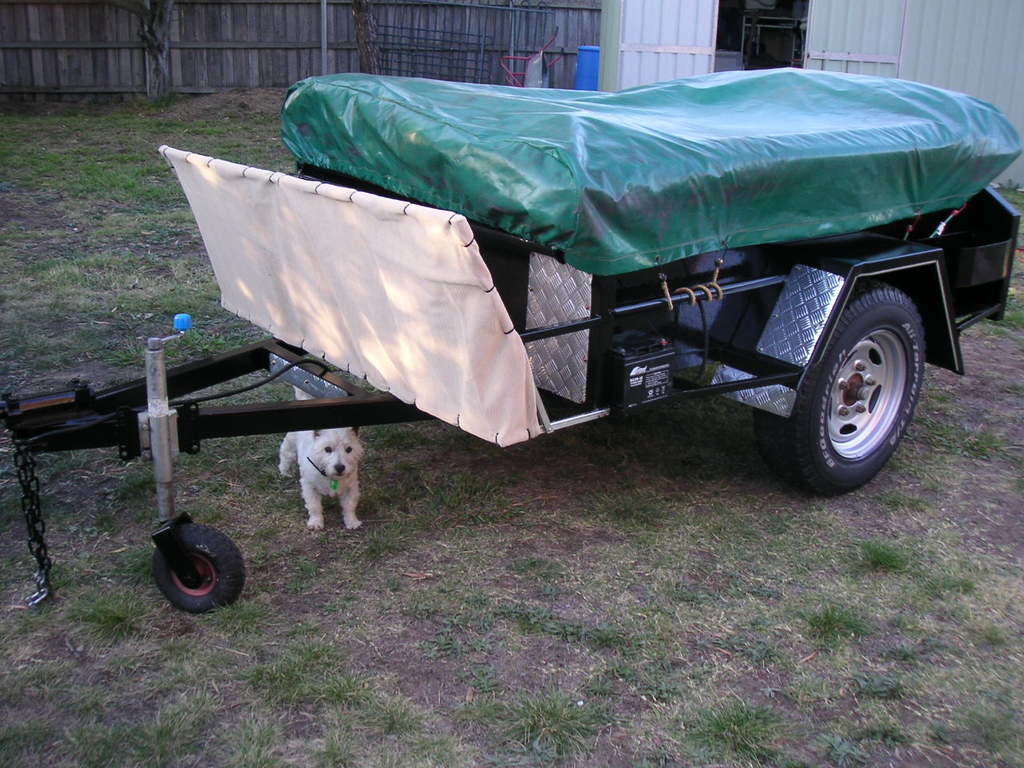 The first time you step up from a tent into a camper trailer, you really feel like you're onto something special.  I used to enjoy camping in tents and thought that was how everyone did it.  Then I did my first outback trip, living out of the back of my old Toyota Camry and a cheap tent I bought from KMart.  At fist it was OK but after about the 5th night putting up the tent, inflating the air matress, getting all the chairs, tables and cooking gear out of the boot only to have to pack it up again the next morning, I swore that the next time I would be doing it a lot easier.
The Bush Hopper was as basic a camper trailer as you could get those days.  It was nothing more than a heavily built box trailer with a simple fold out tent on top and an annex that could be zipped on if needed.  The 'kitchen' was nothing more than a simple drop down bench.  It had a single jerry can holder, a tray for a 12v battery and a spare tyre mounted on the A frame.  That was it.  But compared to living out of a tent, it was absolute luxury.  There was heaps of storage under the bed in the trailer itself and, even fully loaded, I doubt it would have weighted more than about 1500kgs.
At the time, camper trailers were not all that common so everywhere I went in it, I got a lot of comments about how quick and simple it was to set up and pack away.
I took that camper everywhere including an ill fated trip to Cape York where, coming home through the Daintree Rain Forrest, I flipped it after hitting a big pot hole.  It sat in my back yard for a couple of years rusting away until one day I decided to rebuild it.  I added a couple of extra jerry can holders, a frame for holding 2 spare wheels, an integrated lighting system, a rudimentary water tank, a stone deflector and a kitchen Dad made for me out of scraps of wood.  I changed the axel so that I could match the wheels to the Land Rover's 5 stud pattern.  I also got rid of the old jocky wheel and replaced it with a retractable unit.
When Kylie and I started going away together, the tent section had started to look a little worn out.  Most of the fly screens had torn and there were a few holes in the canvass. After having it for over 12 years, it was time to move on.  I gave it one last restoration and sold it for twice what I originally paid for it.  I believe the guy who bought it is still using it today.  Hopefully he fixed the holes in the fly screens...!
That old camper taught me a lot about travelling in the outback while maintaining a degree of comfort and convenience and it certainly served as the basis for all our future RVs.  If you are looking for a first camper trailer and you come across one of these old Bush Hoppers, I highly recommend you snap it up.  It will be a load of fun and adventure...!