Our next destination was Atherton.  We left Townsville and continued north along the Bruce Highway making a brief overnight stop at Bilyana Rest Area before continuing on to Innisfail and turning onto the Palmerston Highway towards Millaa Millaa. This road is a winding hilly drive that crosses through the Wooroonooran National Park. Its quite a spectacular drive but with a caravan in tow, it requires a fair degree of concentration especially with the oncoming road trains that tend to wander onto the wrong side of the road when they get a sight wobble up.
We arrived in Atherton where we stayed with our friend, Margaret. She has a lovely house with views of the surrounding rainforest covered hills. It was a great place to base ourselves for exploring the area.
Atherton is surrounded by a unique volcanic landscape complete with sink holes, crater lakes and extinct volcanoes. There's plenty to see without having to venture too far away and you can certainly keep yourself busy with day trips to many of the popular tourist attractions.
Lake Barrine is the largest of the crater lakes in the area and has a wonderful little cafe that serves very nice meals including some the best scones we've ever had. You can take a boat ride out on the lake if you like but we were happy to potter around the gardens and soak up the sunshine.
Lake Eacham is the other main crater lake that attracts many visitors. There's no cafe's or manicured gardens but there is an extensive network of walking platforms around the main part of the lake where you can see lots of wildlife including native fish and turtles. Its absolutely beautiful.
There's a few little tracks that run off the main roads that are worth exploring as they take you to some hidden gems. Margaret took us to one particular waterfall that was hidden within the rainforest. If you didn't know it was there you would have little hope of finding it.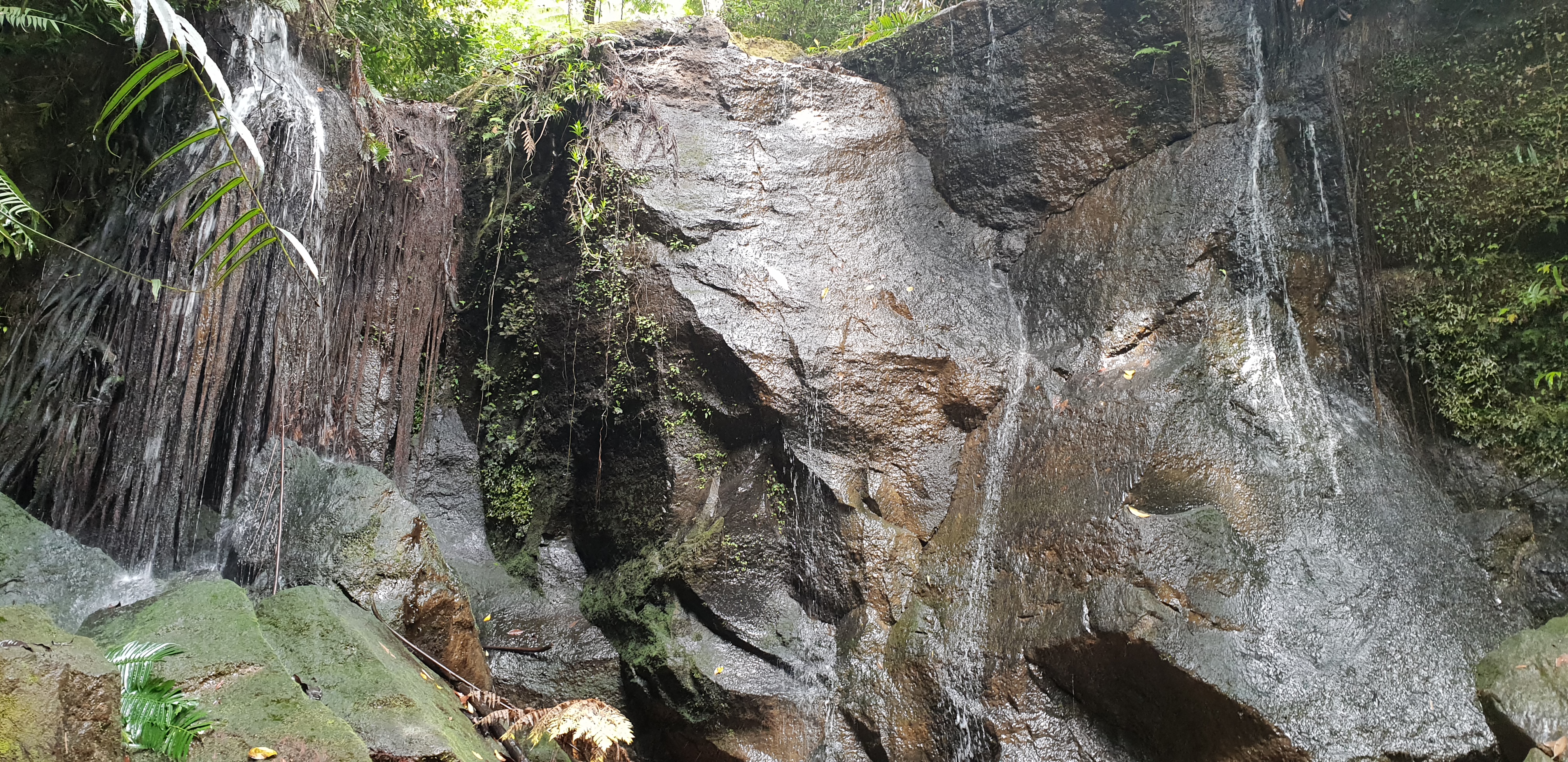 The rainforest is dominated by huge fig trees and one of the most spectacular is the Curtain Fig Tree. This heritage listed tree is one of the largest in tropical North Queensland having grown to a height of 50 metres, a trunk almost 40 metres in circumference and a canopy that extends 30 metres from the tree itself. It really is a sight to see and you can easily spend an hour here just sitting under the tree taking in its grandeur.
Another tourist attraction in the area, although its a bit of a drive out of Atherton, is Paronella Park. We heard a lot about this place on our way up and many friends and family, who had been here before, had encouraged us to check it out. I have to admit to a certain amount of hesitation as often when a place gets this much hype, it fails to live up to expectations. No such issue with Paronella Park.
The brainchild of Jose' Paronella, originally from Spain and arriving in Australia in 1913, Paronella park could be considered Australia's first theme park. It offered visitors swimming pools, water falls, rain forest walks, food and even a grand ballroom for lavish celebrations. Jose' had to build everything by hand using local materials. He made one of Australia's first electrical generators to power everything. He was, without doubt, a man well before his time.
Paronella Park while successful, ultimately had one flaw. Being built in the middle of the most cyclone prone areas on the planet, the park suffered severe flooding resulting in many of the park's attractions being destroyed. What's worse, the concrete Jose' used to build his park didn't fair too well in the weather and it has eroded away at an alarming rate. Today, what remains of the buildings bare more resemblance to the ancient ruins of South America rather than something constructed less than 150 years ago. If you're ever travelling in this area, Paronella Park is definitely worth checking out.
Atherton is famous for its many waterfalls and some of the best can be seen by driving along the appropriately named Waterfall Circuit.  Most are an easy walk from the road and are definitely worth a visit.
After saying our goodbyes to Margaret, we departed for what would be the biggest adventure of our trip so far. We were going to Cape York...!