Essential Caravan Features
Have you ever been to a caravan and camping show and been bewildered by the vast array of options and add on extras fitted to many campers and caravans?  Then, when it comes to committing to the RV of your choice, trying to remember those features you actually wanted?  We have and its amazing what you learn from one experience to another.  In this section, we describe the sort of features on our caravans that we feel make a good caravan into one that is a pleasure to own and use.  These are simple features that some manufacturers have thought about and included as essential items.  Some are expensive and some cost relatively nothing at all or are standard features.  Either way, with this list handy, you should feel confident that your next purchase will cover all the requirements you may have.
Pleasant Interior:
I cannot stress enough how important this feature is.  Its not something that you can quantify or describe in detail as everyone has a different opinion of what is comfortable.  For us though, I think it is something very simple.  Imagine you are miles away from home camping in your RV and it rains for 3 days solid.  Could you sit inside your van for hours on end until the weather clears up?  When shopping around, this is exactly what we did.  We sat in the vans for a period of time and analysed how we felt.  Was it a pleasant experience? Was it comfortable.  Was there enough light, both natural and artificial?  Could you move around inside without getting into each other's way?  Having a great looking van from the outside is useless if you cannot bear to be inside.
Some of the features below will help make the interior of your new van very comfortable indeed.
Comfortable Seating with Footrests:
Yes I know...the whole idea of getting outdoors is to spend as much time as possible outside, but the inside dining area of your caravan is the focal point of your inside living space.  It may be too cold to sit outside and you may just want to have a couple of hours of privacy.  Either way, the seating needs to be comfortable.  The extendable footrests at the end of our cafe style dinette make kicking back and watching a movie on the TV very relaxing.  Being able to store them away afterwards means they will not interfere with your cooking space.  In fact, I find it incredible that this feature is not standard on all vans.
Comprehensive Internal Lighting:
One thing I have noticed with many vans is that their internal lighting can be a bit hit and miss.  Some provide lots of good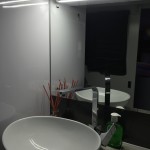 lighting options while some are very basic.  I like to be able to vary the internal lighting to suit various times and activities.  When cooking, you want good lighting in the kitchen area to see what you're doing.  Bright LED lights above the kitchen bench area are a must.  Good reading lights at the bed and near the the dinette also mean you can sit and read a book without straining your eyes.  Our new van is fitted with recessed LED light strips that function independently of the lights in the ceiling and create a pleasant ambience.  They also illuminate the overhead cupboards as well.  Similar LED strip lights have been installed into the bottom of the kitchen cabinets to illuminate the floor making a nice night light for those late night trips to the bathroom.  The soft blue LED setting in the reading lights give just enough light to operate the TV remote controls while watching a movie in the dark.  The bathroom also has an array of lights both recessed into the overhead cupboards as well as above the sink.
Plenty of Ventilation:
Let's face it.  You're most likely to spend your holidays in your caravan during the warmer months of the year so it is very likely that you will be
camping in hot weather.  Caravans and motorhomes, regardless of how well insulated they are, will get quite warm and without good flow through ventilation, they can become unbearable inside, especially at night.  Big windows are essential but also is the roof ventilation.  Most vans come with one roof vent, usually a Four Seasons hatch or a Skylight that can open up and let air out.  Not many vans come with both. I like the setup in the Roadstar. The Four Seasons hatch is over the bed with means there is less light to wake you up in the morning but you can still get good ventilation.  You can also adjust it to suit the conditions by opening as many vents as you need.  Having the large skylight in the dinning and kitchen area means you get that extra feeling of space inside as well as a great big vent in the ceiling to let the heat and cooking smells out.  Its a great combination.
Good Quality Air Conditioner.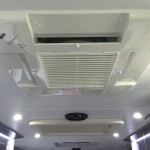 I know what a lot of people are thinking but the truth is that if you're in a caravan park with access to 240v mains power,
the likely situation is that your van will be in full sun and most, if not all caravans come with an air conditioner of some sort.  If they're going to have one, make sure its a good one as many aren't up to the task.  Ours has the latest Air Command Ibis 3 fitted and so far it has performed better than the old Ibis 2 we had in the previous van.  We haven't had a chance to try it out in extreme conditions, so time will tell how well it will go.  A couple of features about it I do like include the very low profile in the ceiling means you won't hit your head on it.  Also the remote control unit for this is far superior to the old model.  Makes using it a pleasure.
Comprehensive Electrical System:
If you are going to contemplate any free camping, you are going to want a decent 12v electrical system.  This means more
than just a couple of big batteries and an Anderson plug to the car.  Free camping means that everything needs to run off a self contained system and 12 v batteries can only last for so long before they are depleted to the point of damaging them.  You need to be able to effectively monitor what's happening with your batteries and how much power is being drawn from them.  You will also need sufficient recharging systems, both solar and mains powered, to ensure you can get charge back into them as quickly as possible, no matter what the conditions.  For 2 x 100ah batteries, a good quality 25 amp charger is minimum.  For solar panels, you will need at least 200 watts and perhaps consider going higher depending on your potential power usage.  Check out our electrical resources page for more information.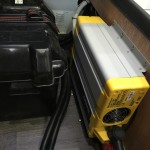 You also want quality gear that is available off the shelf so that if something does go wrong, it is easily replaced or repaired.  Proprietary or specialised equipment is not much good if it breaks down in the middle of the outback. Try to stick to brand names like Ctek and Plasmatronics, or go with gear that is easily replaced with similar equipment from other suppliers.  Look for neat and logical installations, not stuff that looks like a bird's nest of wires and gizmos.  Plenty of fuses and safety switches means your expensive equipment is adequately protected.  Thick electrical cabling means less resistance and more reliable operation of your high energy appliances. Good quality monitoring meters will assist you to understand the health and condition of your batteries.
Adequate Storage both Internal and External:
Loading a caravan and loading a camper trailer are 2 completely different operations.  Most camper trailers provide a single huge storage area that can accommodate a fairly large load, whereas caravans have lots of smaller compartments but little in the way of baulk storage.  This means you need to be extremely mindful of the sort of equipment and accessories you will want to carry with you and how you are going to store them in your new van.  
The kitchen will need plenty of storage for differing sizes of pot and pans as well as any other appliances like toasters and kettles.  Your outdoor chairs and tables will need taller storage areas and preferably outside so you don't bring in a lot of dirt to the inside of your van.  You will want to be able to get at the things you use every day easily.  You will want storage compartments that can handle wet and dirty equipment.  A gal lined tunnel boot or front loaded boot are ideal for this.  Wood lined boots are prone to moisture induced rot or mould.  A caravan that makes good use of all available space will make extended travel easier.  No matter how small a space is, if it can be used as a storage area, its a good thing.
Outdoor Entertainment:
You are certainly not going to spend all your time inside your RV so you want to have a convenient and easy to use outdoor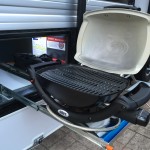 living area.  First and foremost is a good roll out awning that is easy to erect as well as pack away.  The Dometic awnings have been around for years and the latest model as fitted to our Roadstar is as good as it gets.  Being able to extent your entertainment systems such as TV and stereo to your outdoor area is also very important.  Ensure it is weatherproof.  I really like the recessed entertainment systems like this one fitted to our van.  Everything is in one place, its out of the weather and its not vulnerable to being damaged. Outdoor kitchens are great but do add weight.  A simple BBQ on a slide out like this one will probably suffice for most situations.  A drop down table fitted to the side of your van is also an invaluable accessory.
Good Solid Construction with Protection:
When looking at caravans, get underneath and have a good look at how it is constructed.  Lots of steel in the chassis means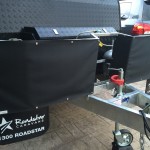 it will be strong and able to handle a lot of punishment.  Go for a galvanised chassis rather than a painted or powder coated finish as these can chip and allow rust to appear.  Galvanised chassis do not rust. Good under body protection for the vulnerable parts like your water tanks and electrical systems is a must if you are contemplating any sort of rough road touring.  Nice features like bump stops and recovery hooks just add to the van's suitability for outback adventures.  If you're not planning on venturing off the beaten track, these may not be necessary and just add weight to your van that you'll never use.  Even so, a front stone guard will give you that added insurance against stones bouncing off your van and into your car's rear window. If one is fitted, make sure it is angled downwards.
Good Quality Wheels and Tyres:
This is something that is often overlooked buy new van buyers.  Big chunky mud tyres may look good but they are virtually useless in gravel road conditions where the voids between the treads are vulnerable to damage.  Try to avoid vans that have been fitted with cheap, unknown brand tyres.  You would't fit cheap rubber to your tow vehicle so why risk it with your new caravan which is carrying all your possessions.  Try to look beyond the shiny rims and ensure good quality tyres are fitted to your van.  On the subject of wheels and tyres, you will want to ensue you have sufficient spares.  
For dual axel vans I recommend a minimum of 2 full spares.  They will likely be mounted to the rear bumper of the van.  Make sure this bumper is up to the task.  I've heard many stories where these bumpers were not very strong or were poorly attached to the van and dropped off, never to be seen again.  Worse still, they have landed into the path of another car following behind the van.
Our Roadstar has been fitted with excellent Cooper All Terrain Tyres and the rear bumper is held in place by 4 strong beams.  Perfect for outback conditions.
Proper Suspension:
It really does't matter what suspension system is fitted to your new van.  Whether it be leaf springs or sophisticated coil suspension, just ensure it has good quality shock absorbers fitted.  Personally I prefer a brand name independent coil spring suspension system like Vehicle Components or Control Rider as these systems have been developed after many years of research and development.  They are also common to many vans so, in the unlikely event of a failure,  obtaining spare parts should not be a problem.  Shock absorbers do more than ensure a smooth towing experience.  They also provide protection to your valuable cargo in your caravan.  They also allow it to traverse difficult conditions like corrugations without damaging the axel components and wheel bearings.  You wouldn't buy a car without shock absorbers, why buy a caravan without them?
Good Quality Tow Hitch:
It is the one point of contact between your caravan and your towing vehicle. You want it to be strong and reliable. Make sure the caravan maker
has not cut corners in an effort to save a few dollars by fitting a cheap towing hitch.  Look for a recognised brand name such as Alco, Treg or Vehicle Components.  These brands have been around for many years and are guaranteed to take the load they are rated to.  Standard ball joints are ok but they are prone to movement which can transfer to the towing vehicle making the journey unpleasant.  I believe the Vehicle Components DO-35 hitch to be the best in the business.  Its is simple to hook up, is very secure once connected and it has no movement in the mechanism itself other than to allow for articulation of the hitch itself so its very comfortable for towing.  It complies to all standards for trailer hitches and is rated to a safe working load of 3,500kgs.  Best of all it can be easily secured with a hitch lock that is virtually impossible to cut off once its installed.
Its the Little Things that Matter:
There are a lot of fly-by-night caravan manufacturers and there are those that have been in the business for a long time and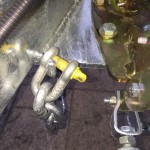 really know what they are doing.  You can usually tell if a caravan manufacturer knows what they are doing by the little things they do or include on their vans that many others don't.  Little things like hooks to store your safety chains, flush fitting gas bayonet, an external shower with hot and cold running water, a solid shower door with solid locks to hold it shut while in transit, a good supply of power points and 12v outlets around the van. An illuminated main 12v switch that is conveniently located so you can reach it on your way out or back into the van.  It also doubles as a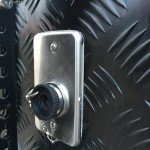 light to see the step when entering your van at night.  All these things may seem insignificant at first but once you start using your van for extended periods, they become the sort of features that make living in your van all
that much more enjoyable.