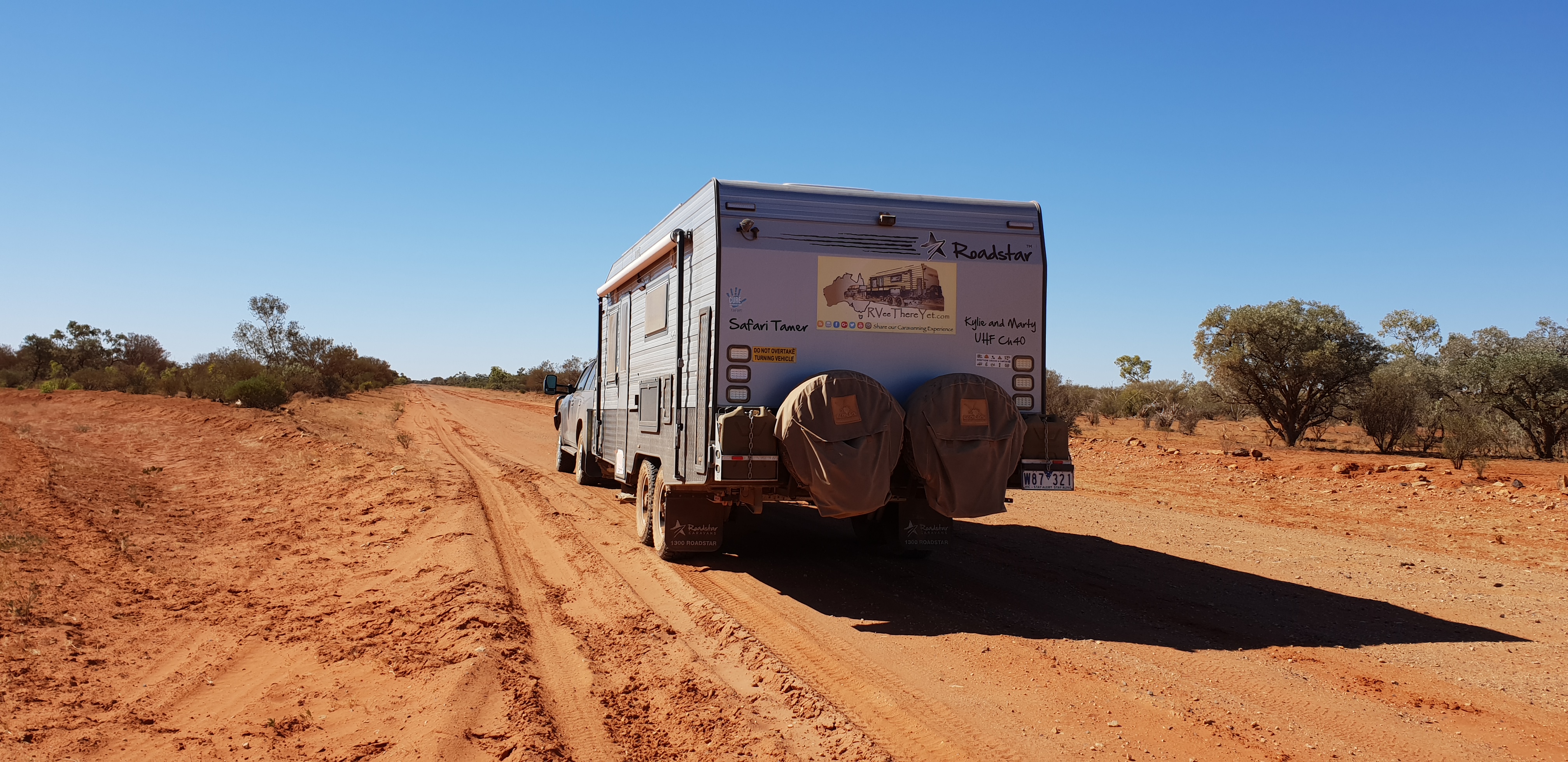 One of our objectives for this trip was to get off the beaten track and explore some of the country's remote desert tracks and, coming out of Uluru and needing to get to Queensland, the Plenty Highway seemed like a great opportunity.
The Plenty Highway is around 500km of dirt road that takes you from just north of Alice Springs in the Northern Territory to Boulia in central Queensland. Its no highway and I believe it does lull travellers into a false sense of security as we were to find out. This is no place to be under prepared and poorly equipped for remote area travel.
The first part of the Plenty is actually a sealed road and it takes you to the first stop, Gemtree Outback Wilderness Retreat. It is a working cattle station but it also sits right in the middle of a huge gem field noted for producing garnets. The campground at Gemtree is fantastic. Huge sites in an open area with plenty of trees for shade and open fire places at every site. Power and water is available as well. The history of the station is fascinating and of you take part in the camp fire dinner on offer, you learn all about it. Its a great story and a great feed as well. We went fossicking for garnets which was also a great experience. We managed to find a few keepers. If you're looking for a starfield sky at night, Gemtree provides this in spades. The night skies are incredible and just add to the outback camping experience.
After Gemtree, the road quickly deteriorates. There is a bit of roadworks going on here with the view to sealing the entire length of the Plenty, but its early days and the detour at the time we were there was full of thick bulldust. At the end of the roadworks, you return to a typical outback road. Its a rough gibber track with corrugated sections, but its not too bad. Careful speed selection and low tire pressures will get you through. The stones are slightly larger than we've experienced on other tracks and our stone stomper copped an absolute hiding. You need to have sufficient under body protection for both the tow vehicle and the caravan, especially vulnerable plumbing and electrical wiring.
Tires also take a beating on the Plenty and we saw lots of destroyed tires on the road. This is no place for worn tread and road tires. You need good quality all terrains.
Our next stop was at Jervois Station. This is a very remote stop but it still offers limited fuel and a pleasant camp ground. You need to have your own water and power as there are no facilities except for basic shower and toilet. They will also do everything they can to help out anyone with mechanical issues. We met a couple who had exhausted their supply of spare tires and they were able to get a replacement at Jervois. I wouldn't recommend relying on this help. They were lucky.
From Jervois, the road surface deteriorates to what we considered the roughest section of the Plenty. Its a challenging mix of stony gibber, corrugations and long stretches of thick bulldust. Some of these bulldust sections stretch for 60m or more and can trap a rig like soft beach sand. There are warning signs on some sections that you need to avoid. It was a challenge but we made it through without any issues. There are signs others hadn't been so lucky with a few wrecks on the side of the road including a near new Ford Ranger.
Our last stop on the Plenty was at Tobermoray Station. Again they offer a basic campground and limited fuel supplies. We went to fill up here and only managed to get 30 litres before the pump ran dry. Fortunately we had a couple of jerry cans of diesel on-board.
After Tobermoray, the road starts to improve and eventually becomes a sealed road again, albeit a pretty narrow one. Astonishingly, this is where we had some trouble. Cars coming towards us in the opposite direction meant we had to move over to the gravel shoulders. The passing vehicles had to as well and many didn't slow down as they passed. As a result we were showered in stones and we copped a few star-bursts in our windscreen. It was very frustrating but I suppose its all part of the experience.
The trip ends in Boulia where you will find a great caravan park by the Burke River. The township offers reliable fuel and basic supplies. Its a welcome relief from the dry conditions of the Plenty Highway.
We thoroughly enjoyed our trip along the Plenty but it was hard work and it wasn't without its challenges. We were well prepared and this is the key. If you're considering taking a camper or caravan yourself, take it easy and you'll get through. But poor preparation will see you having trouble.
Safe travels.