In many ways, the Webber Q family of barbeques needs no introduction to many Australians. The Webber Qs have been something of a revelation in modern BBQing and making it extremely easy to get perfect roasts, steaks and other assorted delights first time, every time. The community of Webber Q owners is so huge, there are social media groups and forums everywhere as well as a rich supply of You Tube videos demonstrating how to get perfect BBQ results from your Webber Q.
The Webber Baby Q is of particular interest to the Caravanning and Camping community because it is portable enough to be carried in a camper or caravan, often mounted on a slide out of some description. Yet is still large enough to be able to produce a satisfying meal for a couple or small family using the on-board gas supply. It's safe too, being suitable for outdoor cooking even on days of total fire ban.  We've also had success using it in windy conditions.
Our Webber Baby Q came fitted to our RoadStar Safari Tamer caravan, mounted on a slide out tray. The front boot on the caravan needed to be made slightly larger to accommodate the height of the Webber. Even with this modification, the legs of the Webber had to be cut down in order for the whole unit to fit in the limited height of the boot. This arrangement has proved to be totally satisfactory and works really well.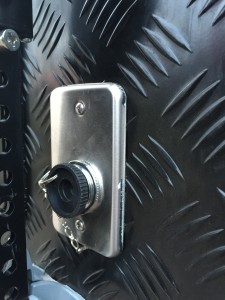 Using the Webber Baby Q itself is child's play. The large dial on the side controls the heat setting and a button operates the piezo ignition. That's about it. You light it, set it to the required temperature and cook away.
Most cooking is done with the lid down which is completely different to how most people would do a barbie. This actually takes some practice to get completely right but it is worth sticking to this as the results are simply amazing. The lid locks in the smoke and vapours which adds a distinct flavour to everything you cook. It is most satisfying. Roasts are the Webber's forte. Using the optional trivet and drip tray, roasts are cooked fat free and to absolute perfection. You will want to have a supply of the drip trays as these are a single use item only. However at less than $1 a roast, its hardly a financial burden. If the costs of these worries you, you can make your own with aluminium foil.
Other accessories for the Webber Baby Q include a half hotplate and a pizza stone. I haven't had a chance to try these out as yet but from all accounts they yield similarly good results.
If there's one thing I'm not totally convinced about the Webber is the need to clean it after every use. I don't clean my home BBQ each time I use it, just scrape away the carbon and food build up and apply a smear of oilve oil. Apparently that's what you're supposed to do with the Webber but considering this is stored in the confines of the caravan, I don't want to have the smell of after-BBQ permeating throughout the van so we tend to clean it as much as we can each time we use it. This is a bit of a challenge as the Webber can get quite grubby with carbon build up. We purchased some BBQ wipes and these seem to do a pretty good job. I think we will experiment a bit with this over time.
So all up, we love our Webber Baby Q. It's very easy to use, is large enough for 2 to 4 of us to have a decent meal and the design means we get consistently excellent results. What's more, the way it has been installed by Roadstar means it is convenient to use and store away.
4 Westies 
Perfect Bacon and Eggs on the Webber
Perfect Bacon and Eggs on the Webber Baby Q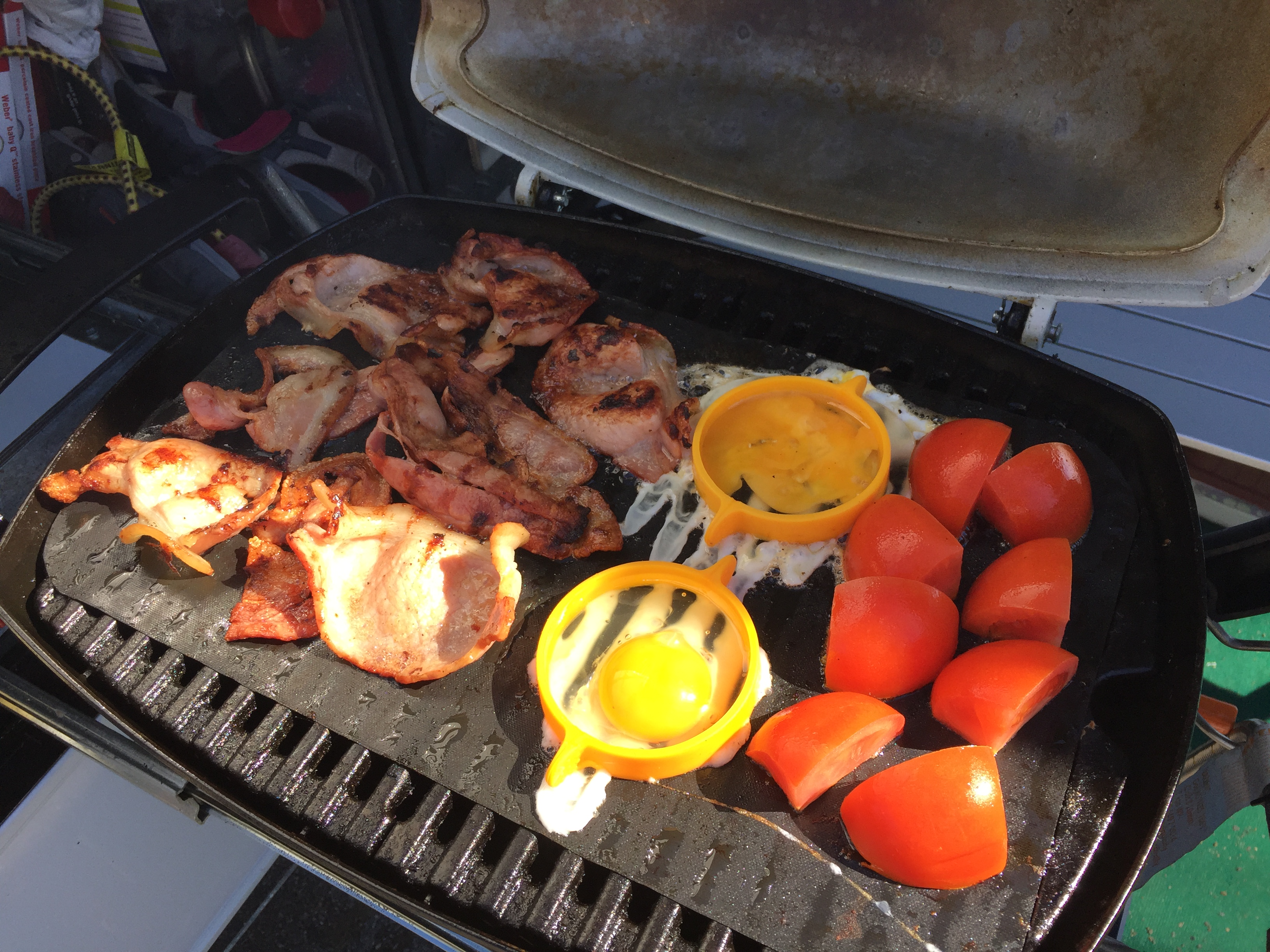 I love the Baby Q but I've struggled to get cook bacon and eggs on it. We made one change and now we know the secret. We share it here….
Get more from your Baby Q
Redarc's Brilliant Solar Blanket Reviewed