You hear all the time about how people buy an off road caravan and rarely, if ever, use it for its intended purpose. I would say that is true for a great many owners of off road caravans. Some of us actually do want to take our vans into the terrain they were designed. It sounds easy enough, just take that track to your favourite campsite and live the dream. Unfortunately, the reality is not as simple as it may seem and even a modest 4WD track can become extremely challenging with a 3t caravan in tow.
I have been towing camper trailers all over the country for around 20 years and I have done so in some very extreme off road conditions. Cape York, the Kimberley region, even some of the goat tracks around the local camps in Victoria. Some have been difficult especially with a camper trailer in tow. Others have not caused me to raise a sweat. Overall though, nothing has really given me serious cause for concern. I thought I had off road towing down to a fine art.
Then, last weekend, we took the Safari Tamer to a bush camp in Bonnie Doon in, Victoria, near Lake Eildon. Access to this bush camp was down a narrow track, about 2kms in length. It was a little rutted and, under normal circumstances, it would not have presented a challenge. But there had been a fair amount of rain in the area prior to our visit and the track was pretty muddy and slippery when we arrived. Still, nothing I wouldn't have thought would have been difficult at all. But put a huge 3.5t caravan on the back of the Crusier and it completely changed the situation. We made it to the campsite with no issues in the end but the experience has taught us some very valuable lessons that we will need to consider for our future off road caravanning adventures.
First off is the sheer size of the whole rig. Lengthwise we would be approximately 12m long so that makes negotiating tight corners very challenging and when the track has even slightly deep ruts, it can be difficult to get a sufficiently wide enough turn to avoid the caravan scraping some trees on the side of the track. The van is also very tall. Low hanging branches suddenly become an major issue. Having a spotter to ensure you have sufficient clearance is vital in these situations. The van is also very wide. There were a couple of gates we had to pass through along this track where there were mere centimetres clearance either side.
Having a competent tow vehicle with strong 4WD capabilities is also vital in these off road situations. I know that sounds obvious but when you consider that we triggered the Cruiser's traction control in some places, you can begin to understand that a less capable vehicle, although completely competent in normal conditions, may very well have struggled. To be fair, Olaf was still wearing highway terrain tyres which were always going to be challenged in really wet and muddy conditions.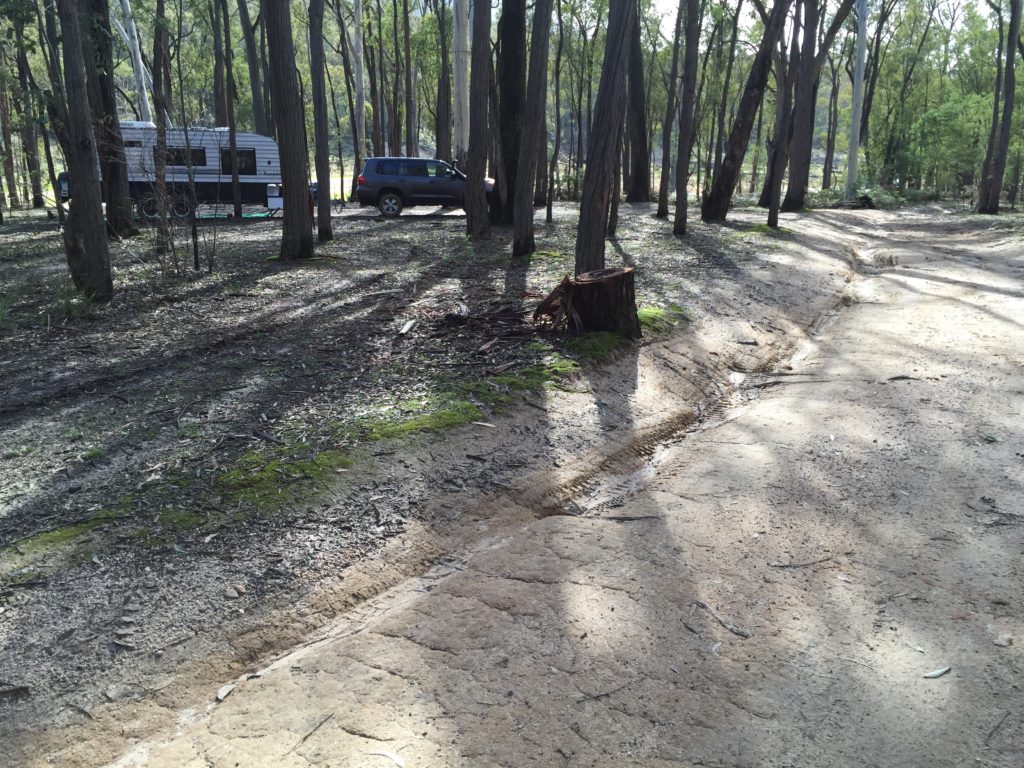 When we arrived at the campsite, we were confronted with a whole set of other issues. We had to find a suitably sized, flat camp site that the van could fit onto that still had sufficient clearance to get out of at the end of the trip. With trees all around, the room for manoeuvring was extremely tight. At one time I came very close to damaging the awning on a tree trunk. It took a couple of goes but we managed to get out unscathed.
I guess the point of all this is that while we had a great time with our first serious off road caravanning experience, it certainly has taught us some valuable lessons. If you're planning on taking your off road caravan into the kind of terrain it was designed to go, you really need to be ready for the challenges that you'll be presented with. Careful planning is required as well as a greater sense of awareness and anticipation. You cannot just blindly drive down a track and expect you'll find a suitable spot to camp and then be able to get out when it's time to go home.
Safe Travels
How to control trailer sway
Reality of off road caravanning